1 Energy Stock Play: Enterprise Group (E.TO)
Enterprise Group (E.TO) provides specialized equipment and services in the build out of infrastructure for energy, pipeline, and construction industries. Through their different companies ( Hart Oilfield rentals, Artic Therm, Westar Oilfield Rentals, Westar Power Division), they managed to become the "best in class" to their blue-chip client-based. Its investors see the value of the company as the stock price is overperforming the TSXV index ( +57% vs -9%) and the company doesn't seem to stop its uptrend.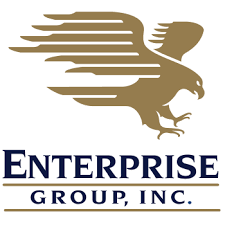 Enterprise Group has a strong presence in Western Canada and more especially in British Columbia and Alberta (11 strategic locations in total) as this is where we find most of the resources. The Company provides specialized equipment and services in the build out of infrastructure for energy, pipeline, and construction industries. Their several companies offer a diverse range of services: 
WESTAR POWER DIVISION is leading the industry by advancing the Natural Gas to Electricity methods of mobile power supply for our clients, achieving serious reductions in emissions, increasing safety and significant cost reductions;
WESTAR OILFIELD RENTALS is a site infrastructure business that fulfills a multitude of equipment needs for a variety of top-tier energy producers;
ARTIC THERM INTERNATIONAL provides advanced and patented flameless heaters that produce outputs of up to 3.3 million BTU and 15,000 CFM of airflow
HART OILFIELD RENTALS provides both site services and custom equipment rentals to Alberta energy producers utilizing 20+ patented designs.

"We are extremely gratified for the confidence this substantial international client has put in Enterprise. We feel that our depth of experience as well as our stated commitment to assisting our clients in addressing environmental, climatic and carbon reduction issues within the resource sector will be a highlight of the corporate growth we see both now and in the future."

Leonard Jaroszuk CEO, President and Chairman of Enterprise group
A Smart Acquistion Strategy
To have sustainable development, the company is mainly looking for profitable private businesses within its existing industries and geographies. To integrate the acquired companies, they identify and implement synergies with existing business units, and deploy capital to fuel growth. The objectives resulting from these acquisitions are to grow revenue, EBITDA, and opportunities, to leverage relationships and operational expertise.
Their track record proves they are doing the right moves. If we take a look at their last acquisitions (TC Infrastructure & CT Underground), the returns have been more than positive:
Enterprise acquired TC Infrastructure in 2007 for $12 million or a 2.0 multiple of trailing EBITDA. The Company divested TC in 2016 for $20 million. Over the course of ownership, TC cumulated $27 million in EBITDA for Enterprise Group;
Enterprise acquired CT Underground in 2013 for $12 million or a 2.1 multiple of trailing EBITDA. The Company divested CT in 2018 for $20.6 million. Over the course of ownership, CT cumulated $18.4 million in EBITDA for Enterprise Group.
If you are not familiar with the word "divesting", divestiture is the reduction of some kind of asset for financial, ethical, or political objectives or sale of an existing business by a firm. A divestment is the opposite of an investment
The stock is currently traded at $0.31 for a market cap of $15M. The SP is up by 56% year-over-year and if you are looking at the overall stock market, Enterprise Group stock is more than overperforming. If we take a look at the junior exchanges, the CSE index is down by 43% and the TSXV is down by 12.7%. Because of the inflation, covid turmoil, investors are looking more to safe stocks
than emerging stocks, and Enterprise Group's fundamentals reassure investors. 
There are currently 48M shares for a tiny 21M float . The management board is currently reducing the total number of shares by doing a Normal-Course Issuer Bid ( Canadian-based stock buyback program). They reduced by more than 7 million share during the recent years, representing approximatively 15% of the initial share structure. 
There could be a small dilution possible as there are 4.8M options outstanding with a weighted average exercise price of $0.18 but regarding the current management philosophy, it shouldn't happen.
The stock price is close to its 52-weeks-high of $0.36 (reached on November 18th) and is far from its 52-weeks-low of $0.18 (April 5th). The Stock is still clearly on an uptrend as the Simple MA (20) is above the Simple MA (200). As long as there is no crossing, the stock price will continue its uptrend. To consolidate this uptrend, the RSI is currently at 53, meaning the stock is healthy and not overbought or oversold. The Bollinger bands help us to determine the possible fluctuations of the stock price. For the current times, we could see lows reaching $ 0.29 and highs reaching $0.33. These prices are for short-term movements. 
If the company keeps on showing good results, we could definitely see a higher valuation. Proof of the strength of the Company, Yahoo finance gave to Enterprise Group stock a 1-year target of $0.96, or a 300% upside! 
The Company's P/S ratio is at 0.96, the first thing we could think is low, but according to other companies' ratios, having the P/S under is common. Having this ratio above would have actually meant the company could be overvalued.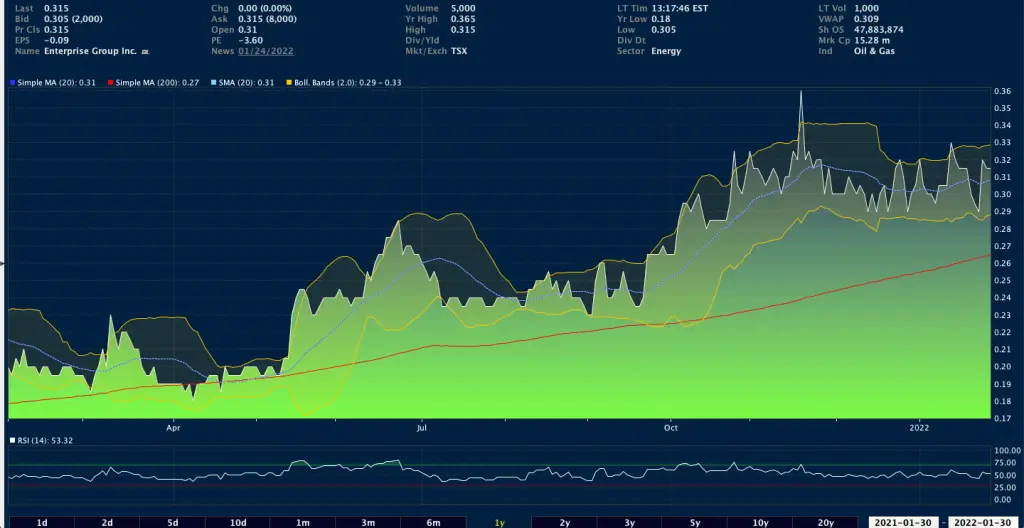 They say, slow and steady wins the race, and Enterprise Group perfectly demonstrates that. Naysayers could attack by saying the stock has a low trading volume, the 57% YoY growth closes the debate. With a smart strategy for acquisitions, a strong client basis, Enterprise Group is definitely on track to continue its growth, which will  please its investors and more especially during these turmoiled times. You could add E.TO to your watchlist but its place would be definitely better in your portfolio.
This article solely expresses the opinion of the writer which might be disagreeing with the other writers of Money,eh?. Moreover, the writer isn't involved in E, and doesn't own shares of the Company.