Brascan Gold Stock (BRAS.V): Time to buy the dip?
Brascan Gold (BRAS.V), a mineral exploration company primarily focused on GOLD, is currently only valued at $1.7M. If the stock is currently down by 88% since its IPO, no significant negative news but just an overall bearish sentiment on junior exchanges led to a decrease in the valuation of many junior mining companies. Its market cap is incredibly and doesn't represent the whole company's potential. This is why it could definitely be the time to buy the dip.
Progress in the Alegre Gold Project
The company is involved throughout North and South America. In the Alegre Gold Project (Para State Brazil), BRAS is engaged in no less than the second most active mining state in Brazil with excellent infrastructure. 
The company intends to explore the opportunities and rapidly develop in Brazil. The geopolitical project has many advantages. Between the high unemployment, a devalued currency for Brazil, and the low take rates in Para State, these situations will enable Brascan to explore and discover gold at lower costs. The company has a solid technical team, which means it will get many opportunities, and its team will know how to handle them.
On May 30th, Brascan Gold announced it had made some progress in the field at the Alegre Gold project:  brascanField crews have completed the first high-resolution airborne magnetic survey over the most prospective gold-producing areas of the Alegre Property. The survey used Avant Geofisica's airborne hybrid UAV (gas/electric drone) system flying at 50 m line spacing. This high-resolution survey detected several distinct linear anomalies suggestive of bedrock geological structures, some of which are closely associated with the large-scale artisanal gold mines (garimpos) that have been producing gold in the area. Brascan has contracted a structural geology mapping specialist to map the garimpeiro pits and determine any relation to the linear features detected from the drone magnetic survey, intending to develop drill targets.
The field crews also have advanced line-cutting for a ground grid for geophysics, geochemistry, and geological mapping surveys. The ground grid is more than 90% complete.
Previously, the company announced it received its approval of OTC Listing and DTC by US authorities. The DTC (Depository Trust Company) will facilitate electronic clearing and settlement of transfers of the Shares.
"Listing on the OTC and obtaining DTC allows Americans to trade Brascan (OTC: BRCGF) in the United States. The company is in talks with reputable market awareness groups that can market Brascan to American investors."

Balbir Johal, CEO
Share Structure/Fundamentals
On their last financial statement for the period ended March 31st, the company reported $1.3M in cash for no debt. The company's most significant expense is based on advertising and promotion ($277k). Per-share, it represents a $0.04 loss per share, basic and diluted.
Brascan Gold has only 21.5M outstanding shares, 2.63M options, and 13M warrants. With only 37M shares fully diluted, this data is incredibly low. Many junior mining companies have more than 100M shares fully diluted because they have to fund their operations through many private placements.
-Options weighted average exercise price: $0.23
-Warrants weighted average exercise price: $0.20
With the current share price, the company can not exercise them and have a controlled dilution for the moment. If they need to raise money for the short term, the company must go through a private placement. But still, with a robust cash-in-hand situation, we shouldn't see this situation happening.
Insiders own 30%, and this is positive data. Usually, everything above 20% is considered excellent.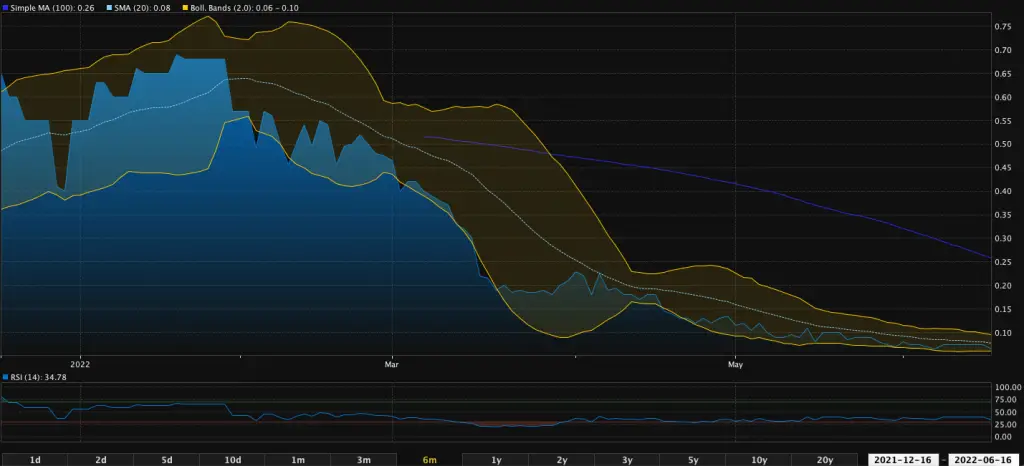 The stock is traded at $0.065 for a $1.5M market cap; we repeat it, the company's market cap is incredibly low regarding its potential. Its all-time high occurred before the company's downtrend and settled for $0.69. About its all-time low, the company is currently experiencing it. On June 6th market was at an all-time low of $0.065, and the company endured it again. Besides, we could see a consolidation of around $0.07. It seems to have steadied around this price range.
The company is close to the oversold territory with data of 34 (anything under 30 is under  30). The price movement is bearish with a Simple MA (100) of $0.26, way above the Simple MA (20), which is at $0.08. On the positive side, the Bollinger bands indicate short-term fluctuations between $0.06 to $0.10.
Its volume hasn't been spared and endured the same turmoil. Indeed its 50-day ADV is at 100k shares traded when its 10-day ADV is only at 29k, proving investors are currently fearful. But once again, these times are great opportunities to average down or start a position.
The company underwent an unfair downtrend in its valuation, and investors will wait for the stock price to consolidate to jump into it. According to several data, the stock price is currently consolidating, and it is an excellent time to accumulate or average down. The decrease in valuation doesn't change the company's expansion, and the reality and recent news indicate its market cap should be way upper.
This article solely expresses the opinion of the writer which might be disagreeing with the other writers of Money,eh?. Moreover, the writer is not involved in BRAS, and does not own shares of the Company.