Cannibble Foodtech (PLCN.CN) Overperforms the Market
Cannibble Foodtech's stock price is one of the few stocks in the cannabis sector to be up since the beginning of 2021. Indeed PLCN is up 124% since the company went public in the first part of the year (we don't include the company's first day of trading). In comparison, HITI has been almost down by 50% since January. The company expands its range of products and marketing awareness, which should increase revenue.
A diverse range of products ready to conquer North America
Cannibble is an Israeli Food tech Company developing & manufacturing powder mix food products enhanced with Cannabinoids. They have developed propriety formulas to enhance powder-based edibles with active Cannabinoids. They are creating a new "Canna-food" segment for recreational markets. The company has raised approximately $4M and has commercial sales in the US, including Amazon and Sam's Club Puerto Rico stores. 
The company has excellent value. With 100 Different formulations already developed and ready to introduce to the market, they will satisfy many customers.
Cannibble's line of products is marketed under its brand name "The Pelicann" and offers five categories of products: 
CannaShakes TM: Powders for making shakes, cold or hot beverages in different favors such as Vanilla, Cookies & Cream, Salted Caramel, Chai Latte, Etc.
CannaShakes Sports TM: Hemp protein shake mixes with CBD, which all professional and amateur athletes can enjoy, just like any other protein shake.
CannaMix TM: Powders for microwave or oven making instant, muffins, cupcakes, pancakes, etc. with or without hemp protein
CannaSpices TM: Pure or blended spices for Pizza, Steaks, Chicken, Salads, and more.
CannaPop TM: CannaPop is a microwave instant popcorn mix with deferent favors ready 2-3 minutes.
On June 8th, the company announced today that a new line of "The Pelicann" products is being launched on Amazon US. The new product line consists of a protein chocolate brownie mix, a protein chocolate cupcake mix, and protein shakes in different flavors. The products are health-oriented, enhanced with high-quality organic hemp protein, sugar-free, and formulated with allulose, a new generation sweetener, for a natural, sweet clean flavor. All products are dairy-free, nut-free, and non-GMO, and the new protein shakes are Keto friendly. The new products will be available for order on Amazon US starting June 25th.
 "We are pleased to launch the new line of high-protein sugar-free products in our Amazon US store and believe in the benefits of the hemp protein as a good source of an alternative protein."

Yoav Bar Joseph, CEO
Share Structure/Fundamentals
The company shared late May its financial statement for the period ended March 31st. Cannibble Foodtech has a strong cash position with USD $421k cash and cash equivalents in hand, for $749k total assets and USD $1.36M in total liabilities. Cannibble Foodtech earned $45k in total revenues (vs. $67k YoY period) and had a total cost of revenues of $34k (vs. $42k YoY period). Suppose the company reduced its research and development expenses ($78k vs. $106k) but augmented its general and administrative, selling, and marketing services ($289k vs. $265k, $175k vs. $78k). It is good to see the company augments its selling and marketing expenses. It means Cannibble Foodtech should reach more potential clients, bringing the company more revenue.
About the share structure, on March 31st, the company had 21.7M shares outstanding. PLCN had a slight dilution over the year 2021:
Issuance of shares to Amuka 26,882
Issuance of shares via Frontfunder 160,936
Issuance of shares to related parties 234,886
Issuance of shares to Amuka 26,882
Issuance of common shares from the conversion of convertible loan 2,594,789
The company doesn't have warrants or options that could lead to dilution. Still, according to the financial statement, "The Company and the founders reached an agreement that the Company has the option to convert the debt into shares at a value on the day of the conversion, in case there is not enough money to repay the debt."
Cannibble Foodtech's stock price is CAD $0.56, went as low as $0.20, and has an all-time of $0.93 (this data was the company's IPO price). If we focus on the fair valuation with the Price/Sales ratio, PLCN's ratio is higher than its competitors. It is explained because Cannibble Foodtech is an emerging company, and investors are willing to pay a premium to own shares of the company. According to Yahoo Finance, its P/S ratio is 47. For a comparison, High Tide (HITI.V) P/S's ratio is 0.57, and Ayurcann Holdings' (AYUR.CN) is 1.57.
According to the stock chart data, the stock price is on an uptrend, with its Simple MA (20) at $0.53 and its simple MA (50) at $0.48. The RSI (Relative Stress Index) data at 58 indicates the stock is neither an overbought nor oversold territory (under 30 or above 70). Regarding short-term stock price movement, the Bollinger bands indicate we could witness price fluctuations between $0.46 to $0.59. The volume remains particularly low. On the 50-day ADV, there were 4k shares traded, and in comparison with the 10-day ADV, there are only a little more than 2k shares traded. It is explained because the cannabis market has taken a beating for the last couple of months. Investors fear this sector with inflation increasing and other data hampering retailers' spending. Besides, it is a beautiful opportunity to add more shares or start a position in the company if you like this sector and believe it will grow.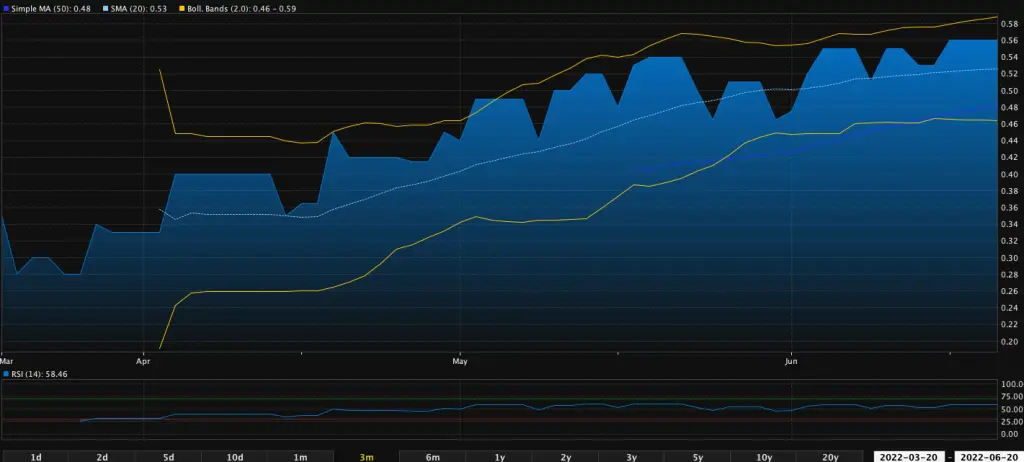 Cannibble Foodtech (PLCN.CN) doesn't undergo the general market downtrend and, even better, is overperforming the cannabis sector. If the revenues are currently not here, it should be a matter of time. The company has strong fundamentals with only 21.7M shares outstanding and $414k cash in hands, and this is data that matters. If you don't feel like investing right now in the cannabis industry, PLCN is worth adding to your watchlist.
This article solely expresses the opinion of the writer which might be disagreeing with the other writers of Money,eh?. Moreover, the writer is not involved in PLCN, and does not own shares of the Company.