Could Kontrol Technologies Become a King ?
Kontrol Technologies (KRNE.NE), a tech company involved in energy efficiency solutions and technologies to commercial energy consumers in Canada and the United States, is currently on an uptrend for the last month. Indeed, its stock price is 217% up and announced promising news. But would it enable Kontrol to become a King ? 
A multi Billion Dollar Market
We are now living in a world where we want to save energy and stop wasting it. It comes from both sides, retailers who disagree with useless consumptions of energy and the companies which could have a better image and would reduce there energy expenses.
According to the U.S Energy Information Administration, despite a 14% increase in total buildings and a 22% increase in total floorspace since 2003, energy use in the estimated 5.6 million U.S. commercial buildings was up just 7% during the same period, according to new analysis from the 2012 Commercial Buildings Energy Consumption Survey (CBECS).
In market numbers, it represents a USD$70 Billion worth in annual opportunity solving energy waste with technology (90 Billion sq ft. of commercial buildings in Canada and the US), AND up to 30% of energy is directly lost to waste. Moreover, there is a USD$30 Billion opportunity of emission compliance with technology. Buildings contribute up to 40% of annual greenhouse gas emissions.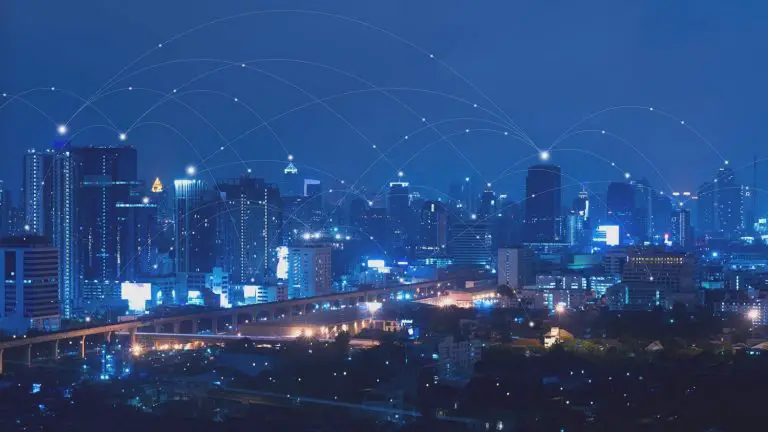 How Does Their product Work ?
Their product, SmartSuite, intends to create a consolidation of  regional markets by providing an integrated technology and solution technology and solution platforms. 
Having a  smart building is beneficial for both the owner and the organizations working within. It brings many benefits which range from energy savings to productivity gains to sustainability. Smart building strategies can reduce energy costs, increase the productivity of the facility staff, improve building operations, support sustainability efforts and enhance decision-making across the organization.  Building managers also benefit from all of the data they receive as well as control capability so they can fine-tune processes to lower energy and maintenance costs.
We can divide it into four paths: 
IOT: Internet Of Things which can enhance productivity, improve real-time decision making, and help reduce overall operating costs;
Retrofits: Improve Energy Efficiency Or Decrease Energy Demand While Providing A Corresponding GHG Emission Reduction.;

Generation: May Serve A Single Building Structure Or It May Be Part Of A Micro-Grid (A Smaller Grid That Is Also Tied Into The Larger Electricity Delivery System);

GHG: a Greenhouse Gas is any gaseous compound in the atmosphere that is capable of absorbing infrared radiation, thereby trapping and holding heat in the atmosphere.
If we talk with numbers, their product work. Their technology saved 200 million Kilowatt hours in energy savings, 142 million Kg of CO2 in annual emission reduction, collected more than 60 billion data and analyses to optimize them, and have a 30% ore more internal rate of return within 3 years.
What Growth for Kontrol Technologies ?
You might have seen the recent news about being picked by a German soccer team (Vfl Wolfsburg)  for their facilities or Kontrol acquiring Global HVAC (they already acquired 5 companies to date), but they also announced a $155 million deal which represents the largest consolidated revenue order book in the company's history and will enable the Company to substantially scale its operations, reaching new customers and offering more robust energy-efficient solutions to its existing ones.
Let's not forget they partnered with Steelcase to launch Kontrol's BioCloud® that provides real-time detection of pathogens, including COVID-19. The company values project and service businesses with solid cash flow and attractive valuations.
If we focus on their gross margin, here is how we can "husk" their profit based on a 100% project: 
60% projects -> 30% gross margin;
10% software -> 80% gross margin;
30% servie -> 60% gross margin.
If we focus on delivered buildings, their numbers keep growing. They went from 100 in 2020 buildings to a target of 300 for 2021 to plan 1,200 buildings by 2024. It would represent for them a target of 25% yearly-upgrade-revenues + organic growth + strategic acquisitions.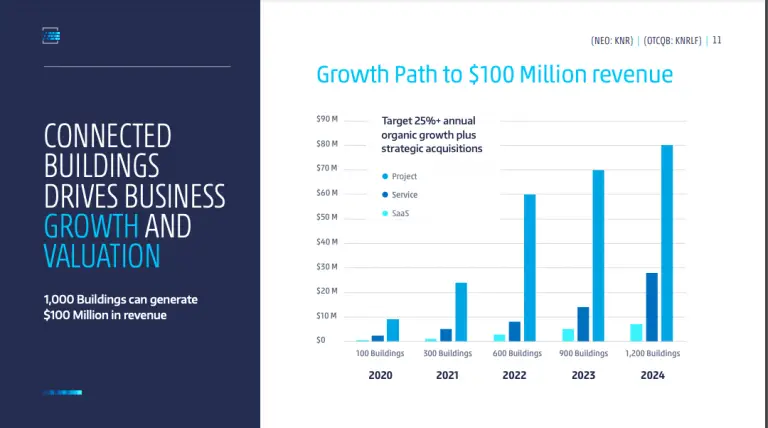 How are their Financials ?
The Kontrol board boasts a 4x EBITDA + a runway to a $100M + annual revenues. According to their last earnings, numbers keep growing and we can highlight these ones:
Revenues for the second quarter of 2021 were $4.2 million, an increase of 83% from the same quarter in the prior year;

Adjusted EBITDA* for the second quarter of 2021 was $1.1 million, an increase of 175% from the same quarter in the prior year;

Strong net working capital position of $8.9 million as at June 30, 2021.
Kontrol anticipates full year revenue for 2021 will be in the $38 million range, up from $13 million in 2020, and anticipates 2021 Adjusted EBITDA* of approximately $3.7 Million.
Talking about Shares, the very small float ( 34.26M) combined to a 30% held by insiders gives a tiny 47.67M shares outstanding which is very positive and could see the stock fluctuates easily depending on news. The Price/Sales ratio is currently under 7 which also shows the company isn't overvalued.
After a long downtrend, Kontrol is currently reviving. With their new patents, new technologies and acquisitions, KNR could be an interesting stock to keep an eye on. Let's not forget the fundamentals which are very good. It is hard to say where the company will be, but is is for sure taking the correct path.
This article solely expresses the opinion of the writer which might be disagreeing with the other writers of Money,eh?
kontrol technologies kontrol technologies  kontrol technologies  kontrol technologies  kontrol technologies  kontrol technologies  kontrol technologies  kontrol technologies  kontrol technologies  kontrol technologies kontrol technologies  kontrol technologies  kontrol technologies kontrol technologies kontrol technologies