Nickel Stock Play: Quebec Nickel Corp (QNI.CN)
Investing in a nickel stock is an excellent opportunity to see your portfolio grow. With new technology, nickel will be needed more than ever. In just a year, nickel's price augmented by 300%, jumping from $15,800 to $48,210 (USD/T). Nickel is a key component in lithium-ion batteries used in electric vehicles: Battery and auto manufacturers have been aggressively trying to secure supply of the metal, especially in safe jurisdictions like Québec. Québec Nickel Corp.  (QNI.CN) is well-positioned to benefit from the situation as the company is focused on the discovery and development of high-grade nickel.
Nickel's Price is Set to Have a Huge Growth
According to Horizonte Minerals, the nickel market is a US$20+ billion per year industry. Today's market is dominated by stainless steel, with over two-thirds of total production used in its production. However, nickel is a critical component in new battery technology used in electric vehicles. This section of the market is forecast to grow significantly over the years and will reshape the nickel industry over the coming decades.
According to the World Bank report "Minerals for Climate Action: The Mineral Intensity for the Clean Energy Transition," the production of minerals such as nickel and cobalt could increase by nearly 500% by 2050 to meet the growing demand for clean energy technologies. As the world moves to realize a lower-carbon future, there will be a substantial increase in demand for several vital minerals and metals to manufacture cleaner energy technologies. The clean energy transition will be significantly mineral intensive – nickel intensive."
Quebec Nickel Corp's operations are located within the world-famous Abitibi Greenstone Belt and, through their 280 claims, own 15,147 hectares. The Company is currently implementing many surveys for the first half of the year 2022 (Complete downhole electromagnetic surveys to identify additional high conductance Ni-Cu-PGE sulfide related targets, 20,000-meter multi-phase drilling program – PHASE I UNDERWAY at Fortin Sill…). The second half of the year will be primarily dedicated for the estimation work and other actions (continue Phase II drilling program, drill-off new discoveries, 3-D modeling & preliminary resource estimation work….)
Our cells should be called Nickel-Graphite, because primarily the cathode is Nickel and the anode side is graphite with silicon oxide….[there's] a little bit of lithium in there, but it's like the salt on the salad" – ELON MUSK, CEO TESLA
Share Structure/Fundamentals
If we look at their latest financial statement (ended December 31, 2021), QNI had a strong balance sheet. With $8M cash in hands for only $500k in liabilities, the Company has excellent leverage to pursue its operations.
There currently are 69.5M shares outstanding 17.9 M warrants with a weighted average exercise price of $0.30, meaning the Company is getting closer to the opportunity of raising more cash. Also, there are 6.9 M stock options with a weighted average exercise price of $0.21. All these data lead us to 94.2 M shares fully diluted. Concerning the dilution, between the strong balance sheet and the possibility to exercise warrants soon, we shouldn't see a private placement incoming. 
Their latest private placement was closed on November 10th, 2021.  The Company issued a total of 27,407,496 Common Share for gross proceeds of $7,699,999.96 through 4,166,650 Units, 10,444,000 FT Shares, 8,035,446 Quebec FT Shares and 4,761,400 Premium FT Units.
About insiders, we notice that they believe in their project as they buy shares on the market. In the last three months, insiders have done 10 buys. We can highlight the CEO David Patterson who bought shares multiple times.
The Company intends to raise a small concern:"As of December 31, 2021, the Company has not yet achieved profitable operations, has accumulated losses of $1,086,485 since inception, and expects to incur further losses in the development of its business. These factors indicate a material uncertainty that may cast substantial doubt on the Company's ability to continue as a going concern. The Company's continuation as a going concern is primarily dependent upon its ability to raise financing from equity markets or borrowings and upon successful results from its mineral property exploration activities."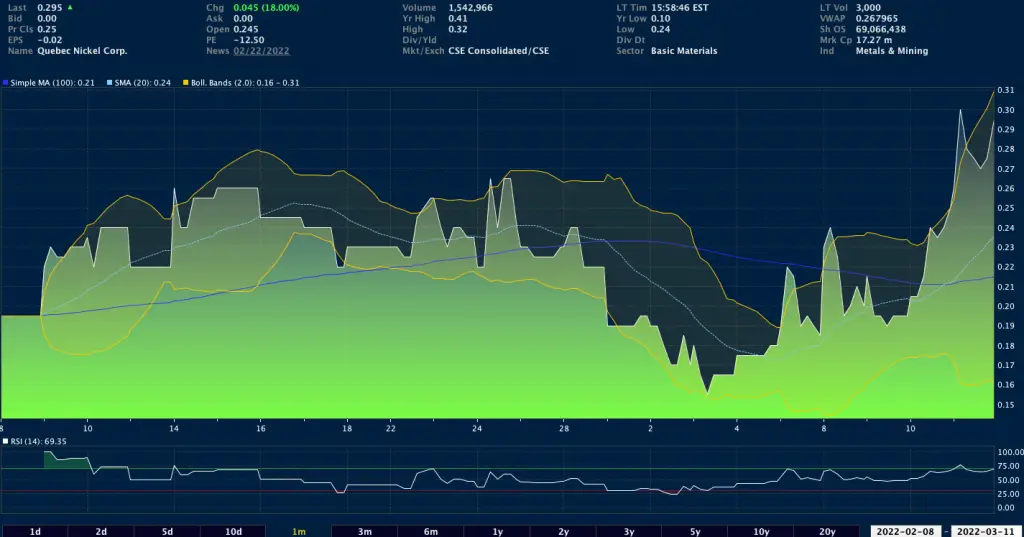 The stock is currently traded at $0.29 for a market cap of $20M and is up by 256% Year-Over-Year. The stock price had a 52-weeks low of $0.10 (July 28th, 2021) and a 52-weeks high of  $0.41 (November 5th, 2021). 
On March 11, a high trading volume occurred (more than 1.5M shares traded), picturing the positive sentiment that led to an uptrend movement. Its Simple MA (20) crossed its Simple MA (200) ($0.24 vs. $0.21), and the Simple MA (20), buoyed by a high trading volume+low ask range, seems to go even higher. The positive sector sentiment will also help the stock price be on an uptrend. 
Over the past weeks, the volume steadily increased. Indeed, between the 50-day ADV and the 10-day ADV, the volume increased by 177%, jumping from 170k shares traded to 301k shares traded, meaning the Company is getting more and more traction.
The recent increase in the stock price will lead to more significant fluctuations. The Bollinger Bands indicate that we can see variations between $0.16 and $0.31. With the high volume and the sudden growth, we might witness a lot of fluctuations. The last data we can focus on is the Relative Stress Index. With an RSI of 69, the stock is going toward the oversold territory (above a value of 70). As an investor, you should check the VWAP data at $0.26. Don't rush and wait for a good entry point.
The stock has crossed the $0.28 wall as two major selling orders were totalizing 112k shares. With the current volume, this wall has been cleared. There aren't significant selling orders meaning the stock price could go even higher. Keep in mind that the stock is undervalued as Quants Report gives a fair valuation of $0.38 or a direct 31% upside.
With nickel being more in demand, the sector will see significant growth, and it will positively affect companies. For investors, it will be through an increase in QNI's market cap that will lead to a share price increase. The stock is still undervalued, and it's a good opportunity for you to add a nickel play to your portfolio if you haven't one yet.
This article solely expresses the opinion of the writer which might be disagreeing with the other writers of Money,eh?. Moreover, the writer isn't involved in QNI, and doesn't own shares of the Company .
nickel stock nickel stock nickel stock nickel stock nickel stock nickel stock nickel stock nickel stock nickel stock nickel stock