Water Ways Technologies: a

n Exciting Stock for 2022
To avoid the general downtrend, you could have invested in safe values such as gold or… Water Ways Technologies (WWT.V)! If you had invested in the stock a year ago, you would have almost a 400% return. Needless to say that investors are pleased by the management and are very optimistic for the future of the Company. WWT's mission is clear: They want to become a global leader for agriculture and irrigation projects for high-valued protected crops.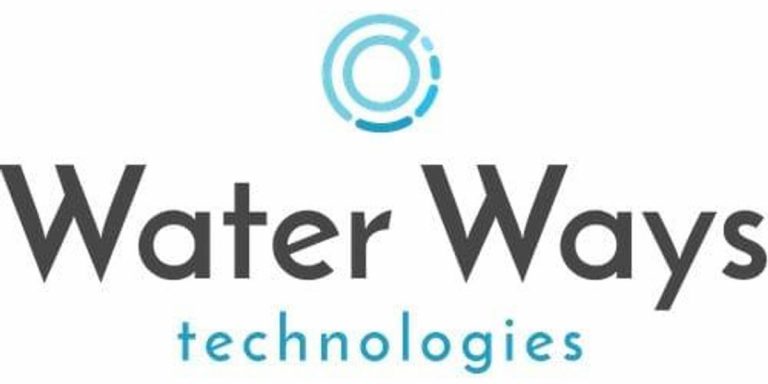 We might not see it yet, but water could be in a shortage in the future, and water is our most precious resource. We use it for everything, energy, food, transportation…  By 2050, water demand will increase by 55% (OECD). By 2030, the world may experience a 40% water supply shortfall (Deloitte) Irrigated Agriculture accounts for over 70% of the world's freshwater withdrawal, and over 85% of its consumption
"The drip irrigation market in the US is estimated to reach USD$1.5 Billion in the year 2026. China, the world's second largest economy, is forecasted to reach a projected market size of USD $2 Billion by the year 2027 with a CAGR of 13.7% over the period of 2020 to 2027."
Here is an example of what they do (the example below is the biggest contract they acquired with Uzbekistan):
The Water Ways solution deploys fully automated drip irrigation technology across a field of 1,200 hectares of cotton and includes 4 reservoirs for water security and sedimentation of silt, fed by water channels. Recently, flood irrigation has caused numerous environmental problems in Uzbekistan, including soil salinity, which may lead to soil erosion, detrimental effects on future crops, sedimentation problems and damage to infrastructure. Drip irrigation can lower soil salinity significantly and combined with fertigation practices, increase yields for the growers whilst conserving water.
Their technology could be used anywhere, in the countries where water is short on hand, or other countries where they would want to direct towards a more ecological way.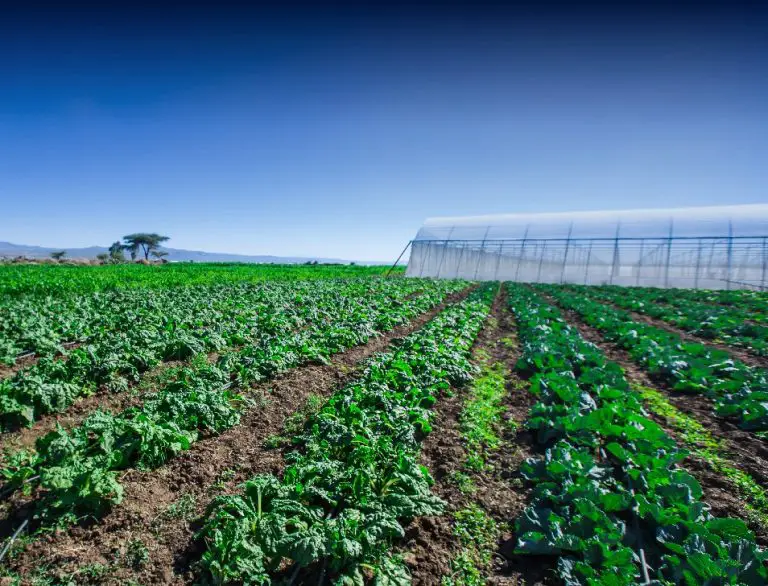 A Strong and Healthy Expansion
During the last weeks, WWT released important information:
They entered into an agreement with Desarrollo de Sistemas Hidraulicos S.A., an irrigation company based in Chile, and the shareholders of Hidrotop for the acquisition of 51% of the shares of Hidrotop. Hidrotop is an Irrigation and hydraulic engineering company operating in the agricultural and mining industries in Chile and Argentina. (January 12, 2022) ;

Mr. Nitin Kaushal and Mr. Daniel Bloch will join the Board of Directors (January 3, 2022);

They announce that the 2022 order backlog of its Canadian subsidiary, Heartnut Grove WWT Inc., exceeded CAD$4.1M as of December 22, 2021. The orders are for agricultural and irrigation supplies and end-user farmers.

The orders on hand are to be delivered and revenue will be recognized in Q1 and Q2 of 2022.

Ohad Haber, Chairman and Chief Executive Officer, commented, "Our Canadian subsidiary is experiencing substantial growth. Our Canadian subsidiary 2021 backlog is significantly higher than what we received in the end of 2020."
The Company has a strong balance sheet besides being still an emerging company. WWT has USD 3,4M in cash and cash equivalents, USD 10,7M in total current assets, and USD $6,62 in total current liabilities. At first, you could be reluctant regarding the liabilities but the Company is having very significant growth:
Record sales for the nine months period ended September 30, 2021, totaling CAD$15,765,000 compared to CAD$9,553,000 for the nine months period ended September 30, 2020, for total revenue growth of 65%;

Service Project revenue stream increased substantially to CAD$8,014,000 compared to CAD$2,237,000 for the nine months period ended September 30, 2021 and 2020, respectively, for total project revenue growth of 258%;

Gross profit increased by 93% to $2,941,000 compared to $1,524,000 for the nine months period ended September 30, 2021 and 2020, respectively.
All the lights are green. They also reported a positive EBITDA, a value that investors are eying a lot.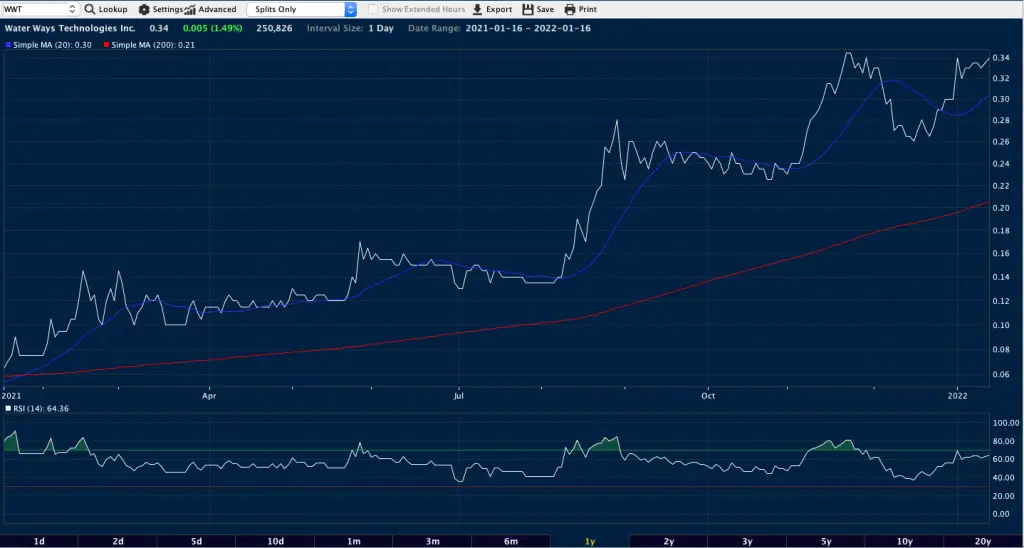 As I am writing these words, Water Ways Technologies is currently valued at CAD 48M for a share price of CAD 0.34.
The stock price seems to be far from its all-time low ( CAD 0.06) as it is currently flirting with its all-time high (CAD 0.355). The Company currently has a P/S ratio of only 1.35. In comparison with Current Water Technologies' P/S ratio, it is a 6.68, meaning the WWT's share price could go higher without being overvalued.
The stock is clearly on an uptrend with the Simple MA(20) being above the Simple MA (200). The two MA are pretty parallel meaning the share price is climbing up healthily. The RSI for the one-year chart is at 64 meaning the stock isn't in the overbought territory.
There are 143M outstanding shares for 187M fully diluted shares. The company can trigger more dilution as both exercise prices for options and warrants are below the share price. Besides, they recently raised more cash, we shouldn't see a bigger dilution for the Stock price.
As you may have understood, the company is currently undervalued according to its P/S ratio, is in a promising sector, and is doing the right moves to expand. WWT is a must on your watchlist. We could definitely the stock price being above $1 for the year 2022.
This article solely expresses the opinion of the writer which might be disagreeing with the other writers of Money,eh?. Moreover, the writer isn't involved in WWT, and doesn't own shares of the Company.
water ways technologies water ways technologies  water ways technologies  water ways technologies  water ways technologies  water ways technologies  water ways technologies  water ways technologies  water ways technologies  water ways technologies  water ways technologies  water ways technologies  water ways technologies 
water ways technologies reddit
water ways technologies forum
water ways technologies inc. sedar
water ways technologies linkedin
water ways technologies inc investor relations