Coinsmart Stock is Set to Have a Huge Growth in 2022
You probably haven't heard about Coinsmart stock (SMRT.NE) yet but the Company is definitely the underdog in the crypto industry. Founded in 2018, the Company that provides a secure and intuitive gateway to digital assets has seen exponential growth. Coinsmart's ambitions are clear, expanding worldwide by acquiring customers across 40+ countries. Investing in Coinsmart stock is a wonderful opportunity to dip your toes into the crypto sector without being exposed to the market's wide fluctuations.
A Huge Growth Opportunity
Coinsmart is involved in one of the hottest sectors, the crypto-currency market. The sector is evolving fast and has a lot of room to grow as it only represents $1.7T in market value (less than 1% of the global FIAT market). Crypto's popularity  is driven by its potential for fast execution of international transactions, the ability to bypass conventional intermediary fees, and in some cases, its potential use in hedging against inflation.  
Coinsmart provides a broad range of services, passing from educational content to banking services and is one of the very few crypto trading platforms registered with Canadian securities regulators. Why does Coinsmart stand out:
Customer Success: ONLY Canadian Trading Platform to offer Phone, Chat and 24/7 Email support;
Coins Offered: wide Range of Crypto Assets offered in Canada today;
Easy to Use: smartTRADE – one of the first platforms world wide to offer trading between all fiat and all coins without the need for pairing;
Education: GetSmart Hub offers content at 3 levels. Smart, Savvy and Genius;
Banking: the Company works with multiple banking partners in Canada and abroad to offer more currency options than other Canadian exchanges.
The Company generates revenue by charging a trading fee (0.2%-0.3%), plus by capturing a percentage of the spread on executed trades (1.0-1.5%).  SMRT generates 1.25%-1.75% of its trading volume in fees. It means that whether crypto-currencies go up or down, it won't affect the Company's business. Even better, these fluctuations will mean that Coinsmart's activity augments, and the more transactions are done on the platform, the more the Company will make money.
There were 182k users by the end of the year 2021. The company targets 350k users for 2022 and 1.15M users by 2026, which represents a 630% growth in 5 years. Having more users will lead into an increase in the transaction fees and will result to an augmentation of the revenue. 
We're lead by a powerhouse group of individuals with diverse skill sets whose mission is to make cryptocurrency accessible.
Share Structure/Fundamentals
There are currently 64,584,429 shares outstanding (insiders own almost half of the float with 44% detained), and only 1.91M options with a weighted average exercise price of $0.24, and 0.73M warrants with a weighted average exercise price of $1.00). This is  great data as investors are always looking for a share structure with a small number and very few dilutions. Moreover, having insiders who own a big chunk will more than please investors. As an example, investors consider insiders owning 25% is a strong percentage.
On the financial side, Coinsmart is doing well. In 2021, the Company saw its 9M revenue going up 321% due to the spike in trading volume. One of the most important data is the EBITDA (Earnings before interest, taxes, depreciation, and amortization). With an EBITDA margin of 25% in 2021 (9M), the company is performing and generating profits. Also, the management board explains margins will improve because trading volumes ramp up. As a comparison COIN has an EBITDA margin of 51%.
The Company targets revenue of approximately $30M and a net income of $3.8M. Being an emerging company with positive metrics is more than rare and there aren't many on the market. Fundamental Research Corp, a research firm, saw the real value of the company and gave a fair value $2.09.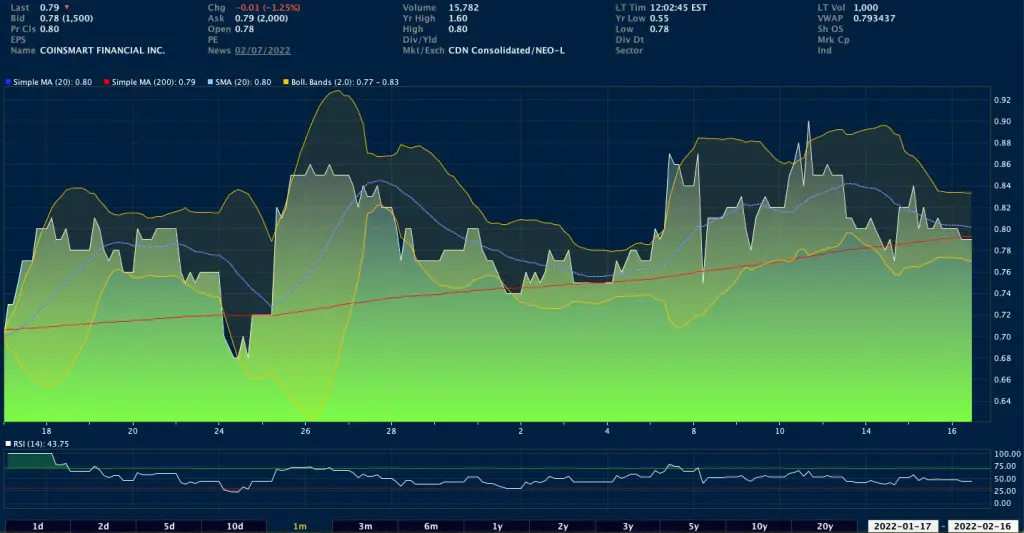 The Company is currently traded at $0.79 for a current market cap of $51M, with an all-time high of $1.60 and an all-time low of $.055.
It is a common movement for newly traded companies to see big variations in the stock prices during the next weeks after its introduction to the public market. Besides, investors understood the value of the Company as the stock has had a well rebound of 44% since its lows.
The stock behavior is still bullish as the Simple MA (20) is at $0.80 and the Simple MA (200) is at $0.79. If the stock manages to detach itself from the crypto-market overall, we could see an increase in the stock price because Coinsmart's RSI is only at 43 (an oversold company will have its RSI under 30 and an overbought company will have it above 70). Regarding daily fluctuations, the Bollinger bands indicate us we could see the stock price hovering between $0.77 to $0.83. About volume, the number is pretty steady with a 50-day average volume of 87k. Recently, the volume lowered, and if the volume keeps on being low, we could potentially see  the Bollinger bands tightening and leading to a big move in the share price.
Being an emerging company and evolving this fast is pretty rare. Coinsmart is rapidly developing, but it is carefully managing its growth to ensure that everything is in order. The Company will please both sides, its users through its wild range of services that SMRT provides, and its shareholders who will definitely enjoy the increase of valuation and hence the share price. Despite a small decrease in the share price since they were introduced to the NEO exchange, it brings the opportunity to either start a position or average down. The share price is definitely undervalued and it will be interesting to see at what price the stock will be by the end of the year.
This article solely expresses the opinion of the writer which might be disagreeing with the other writers of Money,eh?. Moreover, the writer doesn't own shares of the Company.
coinsmart stock coinsmart stock coinsmart stock coinsmart stock coinsmart stock coinsmart stock coinsmart stock coinsmart stock coinsmart stock coinsmart stock coinsmart stock