Enterprise Group's stock (E.TO) is a BUY and a $1.06 fair value
Enterprise Group (E.TO), a company that provides specialized equipment and services in the build-out of infrastructure for energy, pipeline, and construction industries, has recently released a great report from Fundamental Research Corp. Up 70% Year-over-Year, the company is still strongly undervalued according to the analysis firm which gives to the company's stock price a fair value of $1.06 (vs. $0.41 currently).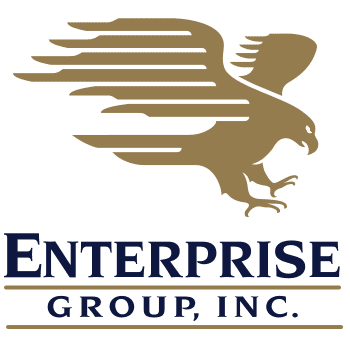 Company Overview
Initially formed in 2004, the company works with particular emphasis on systems and technologies that mitigate, reduce or eliminate CO2 and Greenhouse Gas emissions for itself and its clients. The company is well known to local Tier One and international resource companies with operations in Western Canada. Enterprise Group is divided into four subsidiaries: Westar, Hart, Evolution (leasing equipment business), and Arctic Therm (heating services). It owns over 2,500 equipment, allowing the company to offer various services. Enterprise Group is one of the very few one-stop oilfields sit infrastructure.
In 2022, the company launched the Evolution Power Projects. It offers portable/mobile power systems using natural gas, replacing diesel generators. Natural gas is one of the cheapest and cleanest energy sources. As the company primarily targets natural gas producers, natural gas can be sourced directly from clients' operations. Western Canada has a census of approximately 500+ sites that can potentially use Enterprise Group's systems.
Ms. Johnston states: "Our industry-leading 'concept to completion approach to site planning allows the development of a tailored, efficient power grid in even the most remote and rugged terrains. As a result, it eliminates fuel waste and optimizes amperage to reduce emission outputs. Our systems are displacing diesel with cleaner, greener natural gas systems, and sustainable options."
Management Overview
Leonard Jaroszuk – Chairman, Chief Executive Officer, and President
Mr. Jaroszuk is the Founder of Enterprise Group. He is also an officer in nine different companies. He is President and Chief Executive Officer at Bancshares Capital Corp., President, Chief Executive Officer, and Director at Samoth Oilfield, Inc., President, Chief Executive Officer, CFO and Director at United Global, Inc., President & Director at Richfield Explorations, Inc., and President & Director at West One Ltd. Previously, Mr. Jaroszuk was also a Director at Leis Industries Ltd., President, Chief Executive Officer & Director at Select Sands Corp., and a Director at United Protection Security Group, Inc.
Desmond O'Kell – Vice President, Corporate Secretary, and Director
Desmond O'Kell has been Vice President, Corporate Development of the Company from 2005 to the present. He is also on the board of Samoth Oilfield, Inc. Previously, he was the President of Rochester Resources Ltd., gold and silver producing mining company. He was also the President of Eland Jennings Investor Services, Inc., President of Rochester Resources Ltd., Chief Financial Officer, Secretary, and Director at Leis Industries Ltd.
Fundamentals
Insiders are strongly represented in the outstanding shares' ownership. The CEO owns more than 25% (12.5M shares) of the company, totalized by a significant 34% held by insiders (3.5M shares held by the management board). The company improves its Revenue YoY with a 21% increase between 2020-2021 and 30% between 2021-2022 to reach $7.6M in the first quarter of 2022.
Its Gross margins, EBITDA, EBIT, and Net, are also improving throughout the years, with an increase of 13% in gross margin between 2020-2022, a 16% increase in EBITDA, and a significant difference of -32% Net to reach 22% finally. The company also has more Free cash flow than in previous years, with almost $1M in Q1-2022 vs. $58k in Q1-2021. Regarding revenue projections, Fundamental Research Corp mentions the Company targets $25M in 2022 and could target $48M by 2030. This projection is made thanks to the sector growth forecast of 6.5% per annum. Traded at $0.40, the stock price is close to its 52-week high ($0.42) and is day after day getting further from its 52-week low ($0.23). RSI data (53) indicate the stock is neither overbought nor oversold (30 and under & 70 and above). Its Moving Averages also show the stock is bullish, with a Simple MA (50) of $0.35 under the Simple MA (200) worth $0.395.
How is Enterprise Group compared to its competitors?
To see how Enterprise Group's finances are, it is always good to compare them to competitors. The company has a huge upside as its market cap is incredibly meager. Its $31M valuation is far from close competitors such as High Artic Energy Services (valued at $84M) or from sector mammoths such as Fortress Transportation and Infrastructure (valued at $6,562M) or Precision Drilling Corp ($2,411M). Indeed if the company's revenues are lower, other financial indicators prove the company is undervalued. An EV/Revenue of 1.21 is under the comparables' average of 1.25. Still, in these ratios, the Company's EV/EBITDA is worth 4.28 when the average is 5.39. Enterprise Group's Debt to Capital is 36%, while the sector's average is 47%.
Bottom Line
Enterprise Group (E.TO) improved its finances (Free Cash Flow, Gross margin, EBITDA, EBIT, Net), is currently undervalued compared to other competitors, and revealed to be a solid asset to own during the current economic turmoil (E.TO is up 70% YoY when the TSX is down -4% YoY). FRC initiated a BUY rating and gave a fair value of $1.06. Subsequent earnings should buoy the company's growth.