Great Earnings for Enterprise Group (E.TO)
Enterprise Group (E.TO), a consolidator of services that included specialized equipment rental to the energy/resource sector, released great earnings. The company s very thrilled as the first quarter has been one of the strongest quarters in recent years. The company has constantly been growing over the last couple of months, and the next ones could be very exciting. The stock price is currently 65% up Year-over-Year. Enterprise Group provides specialized equipment and services in the build-out of infrastructure for energy, pipeline, and construction industries. The company has a strong presence across Western Canada with a concentration in Alberta and Northeastern British Columbia.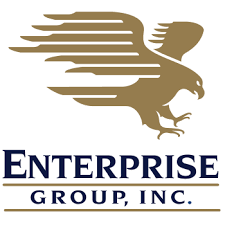 The company released on May 13th strong earnings: 
Revenue for the three months ended March 31, 2022, was $7,629,418 compared to $5,859,287 in the prior period, an increase of $1,770,131 or 30%. 
Adjusted gross margin for the three months ended March 31, 2022, was $3,521,822 compared to $1,925,873 in the prior period, an increase of $1,595,949 or 83%.
Adjusted EBITDA for the three months ended March 31, 2022, was $3,029,861 compared to $1,465,383 in the prior period, an increase of $1,564,478 or 107%.
The company generated cash flow from operations of $2,679,056 compared to $1,389,501 in the three months ended March 31, 2021. This change is consistent with the higher activity at the end of the year and continuing into the first quarter of 2022. The company utilizes a combination of cash flow and debt to right-size and modernize its equipment fleet to meet customer demands.
During the three months ended March 31, 2022, the company purchased $1,783,794 of capital assets, primarily for natural gas power generation equipment, upgrading the energy efficiency of existing equipment, and meeting specific requests from customers. During this same period, the company also sold equipment and received $410,304 of proceeds from those sales, which were reinvested in new equipment.
About the share structure, the company has 47M shares outstanding. Enterprise group also has 4,8M options at a weighted average exercise price of $0.18 and doesn't have any warrants. It is very positive for investors because they should not see any dilution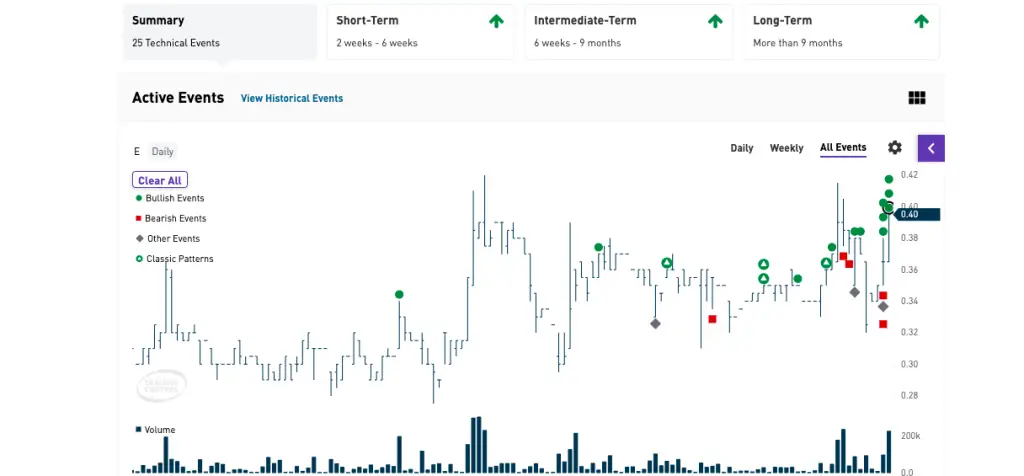 Enterprise Group's stock price is currently traded at $0.40 for a $19M market cap. It is up 65% Year-over-Year, and it's close to its 52-weeks high of $0.42 reached on May 3rd, 2022. Both its moving averages are up, meaning the chart is on an uptrend. Its Simple MA (20) is at $0.36, while its Simple MA (200) is $0.31. Its chart pattern is also very bullish. Indeed 17 technical events show a bullish stock price with a $0.43-$0.45 price target versus only five bearish events, meaning investors are optimistic for the short, intermediate, and long term. Moreover, the Bollinger Bands indicate that we could see daily-stock prices between $0.32 to $0.40, with $0.40 being the resistance level.
Its volume increased steadily weeks after weeks, with a 10-days ADV of 100k versus a 50-days ADV of 50k. More and more investors start to realize the company's potential and what return the company could give if investors get stakes. Recently, the daily average volume even went above 200k.
If we discuss its fair valuation, Quant Report gives E.TO a fair value of $0.67, or a direct 67% upside. Yahoo Finance is even more optimistic, with a 1-year return of $0.96. If we check its Price/Sales ratio, this data is also shallow. With a 0.95 P/S ratio, it is very positive. Even if Enterprise's Group ratio is higher than the average sector', it can be explained because many catalysts are happening to the company, including the share buyback program, strong earnings with a $0.04 earnings per share, and the great fundamentals of the company have.
Many finance media realized the company's potential and covered Enterprise Group. Amongst them, we can highlight
 Simply Wall Street that says:
" It's great to see that Enterprise Group insiders own 59% of the company, worth about CA$10m. This kind of significant ownership by insiders does generally increase the chance that the company is run in the interest of all shareholders."
https://finance.yahoo.com/news/bullish-insiders-enterprise-group-inc-152633828.html
"If you're looking for a multi-bagger, there's a few things to keep an eye out for. Typically, we'll want to notice a trend of growing return on capital employed (ROCE) and alongside that, an expanding base of capital employed. If you see this, it typically means it's a company with a great business model and plenty of profitable reinvestment opportunities. So on that note, Enterprise Group (TSE:E) looks quite promising in regards to its trends of return on capital."
https://finance.yahoo.com/news/enterprise-group-tse-e-doing-104337686.html
Enterprise Group (E.TO) is a silent multi-bigger. The company initiated many catalysts, including a share-buyback program, solid earnings, and fundamentals. The stock price doesn't know the general downtrend affecting many stocks traded on minor exchanges. With its volume increasing, it shows investors waited for the storm to pass and are now ready to jump in E.TO. It is one of the very few stocks to show very positive sentiment. Many experts are convinced the current stock price is considered undervalued. Quant Report, Yahoo Finance, and the board members explained the company's market cap should be valued way higher. Enterprise Group is the perfect fit between emerging stock and a hot sector involvement with investors eying commodity stocks.
This article solely expresses the opinion of the writer which might be disagreeing with the other writers of Money,eh?. Moreover, the writer is not involved in E, and does not own shares of the Company.