Is it a Good Time to Invest in TraceSafe Stock for 2022?
Investing in TraceSafe Stock (TSF.CN) is a smart play as the Company's technology answers to several needs of the current times . More than ever, worldwide governments need to find a way to reopen their economy while dealing with new variants from Covid. Tracesafe can provide a solution considering the current pandemic constraints and the governments' needs. The Company is currently beating the CSE with its stock price up by 6% when the index is down by 56% year-over-year.
A Technology Fitting To Different Sectors
TraceSafe is a full suite of real-time location management services, contact tracing solutions, and enterprise cloud management. TraceSafe has the advantage to be involved in many sectors bringing different streams of revenue. Indeed, they provide many solutions depending on what you need. It can pass by contact tracing, payment/entry pass, room key, room capacity management for the maritime & hospitality sector, venue analytics, fan movement & engagement, ticketing/entry pass, contact tracing for the venue management sector.
In my personal opinion, their biggest asset is they provide government solutions for quarantine management by providing privacy-centric with tamper-proof wearables, which can fit with existing Government programs. As the borders are the first entry point to a country, it is more than crucial for the countries to make sure any newcomers are respecting the quarantine rules and so avoid spreading any variants that could harm the economy's countries. The recent Omicron variant brought to light many imperfections to be corrected regarding borders, quarantine restrictions, traceability, and Tracesafe's solutions are providing all these solutions (I emphasize the government solutions because this is a huge opportunity for Tracesafe. I am not forgetting the other sectors where they can provide solutions).
Tracesafe can also provide solutions to enterprises, industries, and the education system.
The Company secured already big contracts, passing by almost 500,000 wearables with the government of Hong Kong to support their self-quarantine programs, or for big events such as the IIHF World Junior Championship will which be equipped by Tracesafe .
More recently, the United States Patent and Trademark Office has granted the company a patent for its novel Position Tracking System. The patented technology enables continuous tracking and monitoring of electronic tags by achieving extremely low power consumption.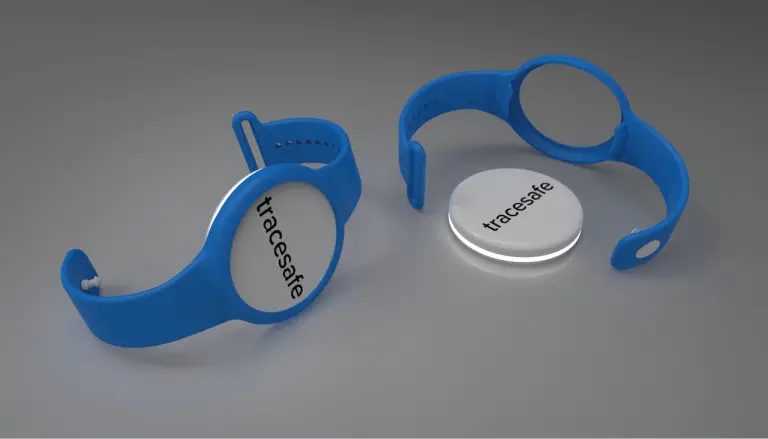 The last earnings (for the nine months ended September 30, 2021) have been more than great for TraceSafe. We could notice still a $4,2M USD in current liabilities but their revenues crushed it. Let's highlight in the meantime they had their first positive quarter in the company's history :
Record-breaking Q3 revenue of $5.96 million USD, up 5.5x over the same quarter last year (Q3 2020), with gross profit of $2.5 million USD (42% gross margin). For the similar period last year (Q3 2020), gross profit was $448K (41% gross margin);

They Reported diluted Earnings per share of $0.03 versus a loss per share of ($0.02) for the similar period last year (Q3 2020).

The Company anticipates Fiscal Year 21 to be 3.7x higher compared to Fiscal Year 20.
One thing is sure, the next earnings will be even more interesting to decrypt as the company is seeing significant growth. The Company is now profitable and this is a value investors will appreciate. Emerging companies with a positive EPS are rare, and Tracesafe is among them! 
"We witnessed phenomenal growth this year. Along with becoming profitable in the third quarter, we recorded our highest revenue since inception."
Wayne Lloyd, TraceSafe CEO.
The stock is currently traded at $0.55 for a current market cap of almost $24M. The stock currently has an incredibly low P/S ratio of 1.55, meaning the share price is undervalued. My personal guess is the stock is suffering from the current stock market downtrend and more especially from the tech sell-off, leading to a delay in the share price. 
As an example, the tech sector's P/S ratio usually hovers around 10 for big companies but can go definitely higher for emerging companies as investors are eying for the future and don't mind paying for a premium.
On the positive side, the Simple MA (20) is above the Simple MA (200) which means we are still positive for an uptrend. With an RSI of 50, the stock isn't in the overbought or oversold territory. The Bollinger band helps us to know we might have fluctuations over time between $0.51-$0.58. All the data are tightening and as a consequence, any positive news or sector uptrend will propel the share price higher.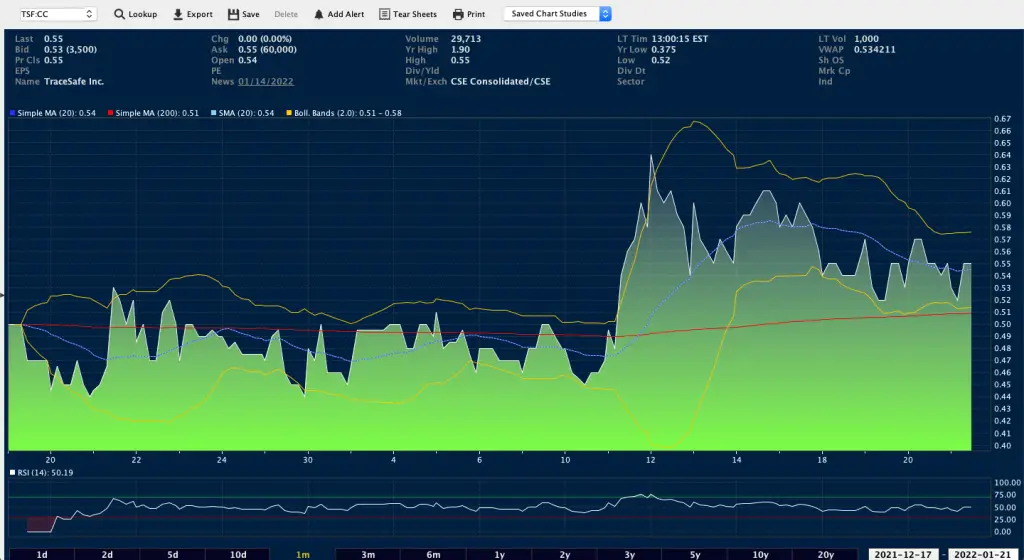 There are currently 45,7M fully diluted (plus 8M options), which is incredibly low. In comparison, tech companies usually have 150-200M shares fully diluted and Tracesafe is way under these levels. 
We could see some dilution in accordance with their last financing: "The convertible note will be issued at a total face value of USD $3.2 million, bears interest at a rate of 12% per annum, payable quarterly, and may be converted into shares of common stock of TraceSafe in whole or part at any time upon delivery of a conversion notice by Arena Investors to TraceSafe."
The worldwide economy needs to have a solution dealing with Covid and the need to be reopened. Covid appears to be here for a while and so Tracesafe to grow bigger in the future. Let's not also forget all the different sectors where TSF is implemented and will conduct the company to a fast expansion. Again, its P/S ratio is definitely low, the company turned profitable and the next quarterly earnings should definitely please the investors. Proof that the company is strong, its share price doesn't follow the current downtrend. If we go even further, targeting a share price of $1.5 by the end of the year is more than reasonable. If you haven't done it yet, TSF is definitely a stock to add to your watchlist.
This article solely expresses the opinion of the writer which might be disagreeing with the other writers of Money,eh?. Moreover, the writer isn't involved in TSF, and doesn't own shares of the Company."
tracesafe stock tracesafe stock tracesafe stock tracesafe stock tracesafe stock tracesafe stock tracesafe stock tracesafe stock tracesafe stock tracesafe stock tracesafe stock tracesafe stock tracesafe stock