Opawica Explorations (OPW.V) Gold in Abitibi
Opawica Explorations (OPW.V) is a junior exploration company located in the Quebec-Abitibi belt, the world's largest mineral-rich greenstone geological belt. Opawica is also involved in Newfoundland, known as the "New GoldRush Area." The company only has a $10M market cap valuation and is surrounded by famous neighbors such as Agnico Eagle Mines or IAMGOLD. We sat down and talked with Opawica's CEO, Blake Morgan, to learn more about the company's operations, fundamentals, and future.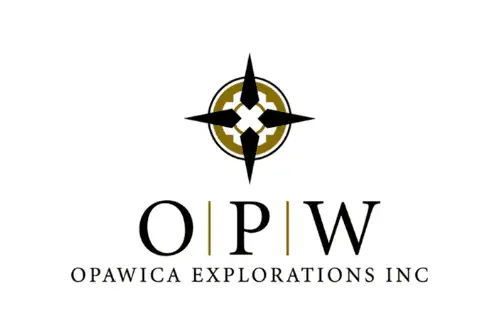 The Abitibi Gold Belt is a region that extends from Wawa, Wes  Ontario, to past Val d'Or, East Quebec. The Abitibi Gold Belt has produced over 190 million ounces since 1901. During the last century, some 124 companies (many of them are famous and worth billions of dollars) were placed into production.
Among Opawica's neighbors, we can highlight:
-Agnico Eagles Mines: the company has a $24B valuation and produced 1.737 million ounces of gold in 2020. The company also adds value through the acquisition of several development stage projects;
-IAMGOLD: the company is valued at $1B and optimizes its performance by advancing explorations and pursuing accretive acquisitions.
About Newfoundland, the Canadian province is considered the New goldRush. In 2020 alone, the provincial Department of Industry, Energy, and Technology processed 389 mineral exploration applications, surpassing the previous five years.
Among Opawica's projects, the company shared several news about its Bazooka and Abitibi projects.
On June 8th, 2022, the company announced it hit visible gold on the Arrowhead Property. The company might have discovered a possible new extension on the eastern portion of the property; visible gold has been seen in the drill core of the same zone (Yvan zone).
 "Drilling is progressing extremely well on our Arrowhead Property. With several visually exciting holes drilled, the team is looking forward to receiving the assay results. This new Yvan Zone has been a high priority to the Opawica geologists. We are thrilled to not only have drilled a small portion of it but to have hit visible gold, adding to our new potential extension theory."

Blake Morgan, CEO
In late February, OPW explained in a news release it intercepted visible gold "again" and completed 4,742m of drilling at Bazooka. The company has drilled and completed 22 holes comprising 4,742 meters. One thousand six hundred fifty-eight rock samples, representing 2,092 linear meters, have been sent for assay to Actlabs in Quebec.
The company shared important data on its latest financial statement for the period ended February 28th. Opawica has a strong balance sheet with $2.1M in cash for no debt. According to the CEO, it leverages the company to continue explorations without raising money through private placements that would dilute the share structure.
The company only has 41M shares outstanding for 53.7M fully diluted. It is pretty exceptional to have these fundamentals. Few junior companies can boast of having more than $2M in cash for a small share structure. There are also 9M warrants at a weighted average exercise price of $0.60 and 3.7M options at a weighted average of $0.30. It is very optimistic to see these warrants at this exercise price. It means the management is confident in the company's future and growth.
"12 months ago, we did a placement of $0.40, one of $0.50, and one of $0.55. Every placement has been on an upwards trajectory, and we have put our warrants in with those placements; it is why they are $0.60 and $0.75

Blake Morgan, CEO
Blake Morgan (CEO) often buys on the market. Year-over-year, he purchased 82 times, totalizing more than $1.5M shares.
"We are extremely undervalued in our eyes; we are a lot cheaper than our last three private placements. We are currently drilling, waiting on assays, and definitely have a lot of room to grow."

Blake Morgan, CEO
Opawica has famous shareholders onboard. We can highlight Goldspot, which has a 5% stake, Eric Sprott owning 7% (the famous gold & silver investor), and 3% held by institutions. Regarding the insiders, they own 30%.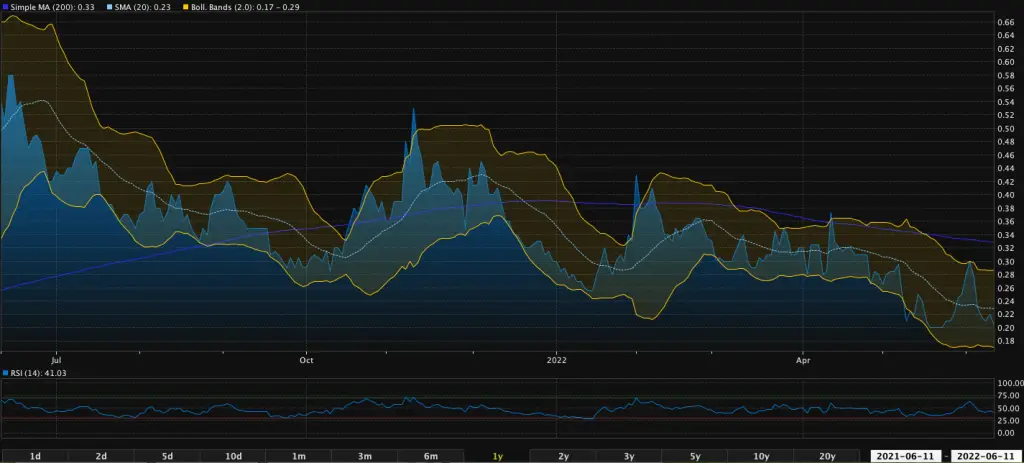 Opawica is traded at $0.20 for a meager $10M market cap. This valuation is extremely low because the company is part of the Abitibi Gold Belt and has countless high-valuation-neighbor companies. Opawica's stock price hit a 52-weeks high of $0.61 and bottomed to a 52-weeks low of $0.19.
The stock price is considered bearish because its Simple MA (200) is $0.33, way above its Simple MA (200)  of $0.22. Besides, we could see some consolidation are the current stock price. Indeed, it seems to have bottomed, and we could see an uptrend movement buoyed by positive news or a mining bull run. Regarding daily fluctuations, the Bollinger bands indicate we could see daily changes between $0.18 to $0.28. With the company's tight float, investors could witness more considerable fluctuations than other companies. Regarding the volume, it steadies at around 70k shares traded on the 50/30/20/10-days Average Daily Volume.
Blake is a 3rd generation miner. His grandfather worked for Rio Tinto for 40 years, his father for the same company for around 20 years, and Blake Morgan worked for them as well; this is how he started in the mining industry. The mining passion is inbuilt in his family.
Blake has 15 years of experience in the mining industry, including ten years dedicated to the mining and natural resource sector in Australia with Rio Tinto, BMA Metals (a subsidiary of BHP), and Santos Ltd.  Gaining first-hand knowledge, culture, and an understanding of mining operations he then made a move from Australia to Canada and has been instrumental in consolidating significant exploration land packages and financing their development for private resource exploration companies in British Columbia.
The company has strong fundamentals (share structure, cash in hands…), is entirely surrounded by Agnico Eagle on all sides, is looking to build its properties up, and then is looking to be knocked on the door and be bought out. This is the goal of the company. Led by an experienced management board, the company Is headed in the right direction. With only a $10M market cap, OPW represents a bargain for any type of investor.
This article solely expresses the opinion of the writer which might be disagreeing with the other writers of Money,eh?. Moreover, the writer is not involved in OPW, and does not own shares of the Company.