Stallion Gold (STUD.V) is in the Top Mining Jurisdictions
Stallion Gold (STUD.V) is a mineral exploration company focused on exploring precious metals and critical minerals at its Horse Heaven property in Idaho and Richmond Mountain property (recently acquired from EMX Royalty) in Nevada. Stallion Gold uses modern techniques to explore historical and new mineral targets on both land packages. The company. Many indicators show Stallion Gold's stock price is significantly undervalued and is now traded at a bargain.

Horse Heaven Overview
Stallion Gold is involved in the premier jurisdiction state. Idaho is ranked 1st in policy perception and 9th for investment attractiveness. Idaho doesn't represent any geopolitical risks compared to Central and South American countries. Many well-capitalized companies are in the state, including Hecla Mining ($2B Mkt cap), Perpetua Resources ($200M Mkt cap, closest neighbor and shared boundaries, and the Stibnite Gold Project, which has historical production of over 980,000 oz's of Gold).
The Horse Heaven Project covers 5,817 hectares and 699 claims. This area has multiple target zones for exploration, and critical materials such as Antimony are produced on the property. One of its primary target zones, the North, Central, and South Zone, envelope over 2.9km of Gold mineralization, with historical workings showing anomalous Gold. The Antimony Ridge Fault Zone also covers 1.4Mkm in length and is a historical production site of this critical material. According to its timeline, the Horse Heaven Project exploration and drilling should be completed by Summer 2022.
Richmond Mountain Overview
Stallion Gold is now involved in Nevada, the 2nd largest gold reserve in the world, and over 20 mines annually produce over 5M ounces of Gold. Nevada is consistently ranked among the top mining jurisdictions globally. The Richmond Mountain Project is next to the I-80 Gold project, the Ruby Hill Project. The Ruby Hill Property has over 7.6M ounces of Gold MI+I open pit and underground.
The Richmond Mountain Project covers over 955 hectares, has 117 claims on BLM ground, and is located in the Battle Mountain-Eureka Trend. The company will need further geochemical and geophysical surveys to advance its understanding of mineralization and structure and additional drilling to test structure depth & location.
"We are excited to be bringing the Richmond Mountain gold project into the Stallion Gold stable as it aligns with our strategy of using modern exploration to advance underexplored projects with significant mineral endowment potential that are near, or right next to multimillion ounce deposits,"

 Drew Zimmerman,  CEO.
Drew Zimmerman, CEO, leads the company. Mr. Zimmerman is a Chartered Financial Analyst and was a Derivatives Portfolio Manager at a National Brokerage firm before joining Stallion Gold. He made the switch for the opportunity to build this story from the ground up with a solid team to work within an environment he sees as increasingly supportive for Gold.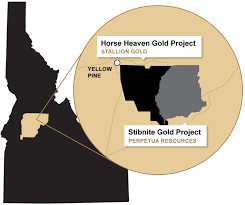 Share Structure/ Fundamentals
The company has 60M shares issued & outstanding (June 1st, 2022), for 66M shares fully diluted. Stallion Gold also has 4.2M warrants and 1.7M options. Management, directors, advisors & significant shareholders also own a substantial stake in the company. They gather 26M shares which represent 43% of the outstanding shares. According to the company's latest financial statement (for the period ended March 31st, 2022), the company had $2.6M in cash for no debt and only had $401k expenses for the quarter, meaning Stallion Gold has substantial leverage to continue its operations without raising more cash through private placements.
About its projects:
Horse Heaven Property: Stallion Gold has paid $800k, issued 24M shares (closing of agreement, one year of anniversary), and has $400k more to pay and 12M shares to issue for the second anniversary. The company will also have to pay a 4% Net Smelter Return with the ability to buy back 1% for USD $2M.
Richmond Mountain Property: Stallion Gold agreed to acquire the property through the option payments of USD $500k and a work commitment worth $1.5M on a five-year option period. There will be additional milestone payments for PEA, PFS, and FS along with an Average Annual Return of 4% NSM with the ability to buy back 1.5% for a total of USD $2.95M.
Stallion Gold is traded in Canada (TSXV: STUD), Germany (FSE: HM4), and the United (OTCQB: SLLGF). The company also announced DTC Eligibility.
STUD is currently traded at $0.22 for a $13M market cap. Its valuation is incredibly low as its cash represents 20% of the company's valuation, added to the recent news of the Richmond Mountain acquisition. The stock price lost 60% of its 52-week high value ($0.55) and is now sitting at its 52-week low. Chart data indicate a bearish movement as well. Both its Simple MA (50) and (200) decrease in value. Its Simple MA (200) is worth $0.39 and above its Simple MA (50), worth $0.31. The trigger a bullish movement, the Simple MA (50)  will have to cross over the Simple MA (200). RSI and RSI-based MA data also indicate the stock will be overbought soon if the stock price continues this way. The RSI is worth 35, and the RSI-based MA is worth 41.
Stallion Gold (TSXV: STUD; OTCQB: SLLGGF; FSE: HM4) is significantly undervalued. The company has its team in place to realize the potential, is part of solid mining jurisdictions (Idaho & Nevada), has well-known neighbors (Perpetua Resources & I-80 Gold), and owns two large properties with Gold and Critical Minerals. Stallion Gold's stock is a bargain and should bring a significant Return-On-Investment to its shareholders.