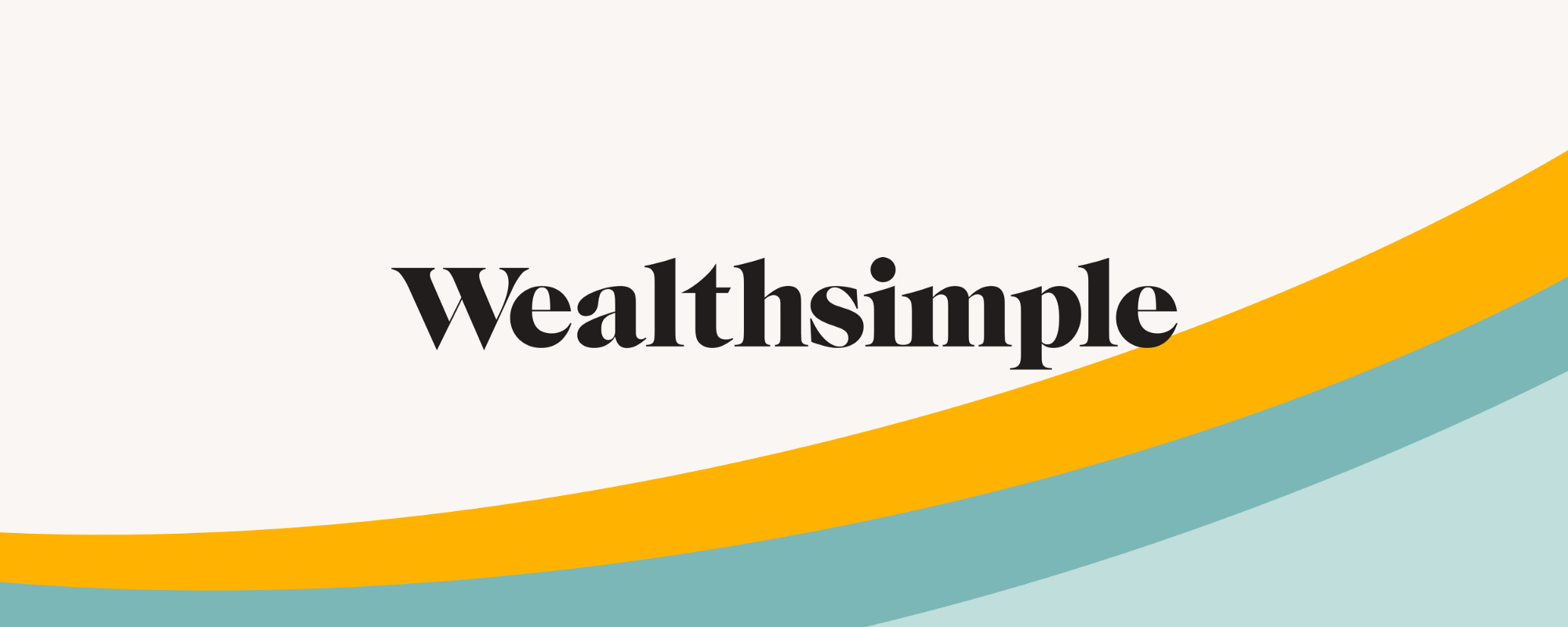 Many Canadian's face financial hardships because they are simply not prepared with no safety net. It's easy to get caught in the spiral of spending more than saving, taking on credit card debt, and making minimum payments just to keep creditors at bay.
On the other hand you may just be looking for a good place to set aside your extra earnings.
Do you want to rid yourself of debt and save more money?

Do you to create a financial safety net and savings for your future?
You need WealthSimple – saving and investing on autopilot.
WealthSimple is a platform which allows you to easily deposit your extra money in savings or investment accounts (TFSA). 
They offer a web version, as well as an app. The company WealthSimple offers many services, but we are focusing on their investment and savings accounts for every day individuals.
WealthSimple has entered the marketplace to say "Investing and saving shouldn't be difficult or expensive, we take heavy fees and complications out of the equation so anyone can benefit."
If you so choose, the company will invest your money for you.  They can do this because they have a team of investment analysts which actively scan the market for opportunities which match your risk level.
Quite simply put, WealthSimple allows you to invest your money easily without having to do the research or trades yourself.
How Does WealthSimple Work?
 So you are looking to save money or earn extra with the cash that you have. WealthSimple provides possibly the best hands-free solutions for these cases.
Here are the features that will put you on the path to savings:
TFSA Autopilot investing – Set monthly deposits into a TFSA, or make one-time payment. These funds will be wisely invested in a diversified portfolio based on your risk preference.
Conservative, Moderate, Growth – As mentioned, you can choose low to high risk portfolios depending on your goals and timeline for savings.
High Interest Savings – Highly competitive rates with no fees, just this alone is worth keeping some extra cash in – a no fee savings account with high interest and no withdrawal fees.
Round-Up – This feature will track your spending on bank accounts and credit cards, rounding the transactions to the nearest dollar.  This difference is automatically deposited in your WealthSimple account periodically.
New Feature:
Wealthsimple Performance
Fund performance

Other review
What People are Saying About WealthSimple
People are excited about Wealthsimple because it allows them to easily save money.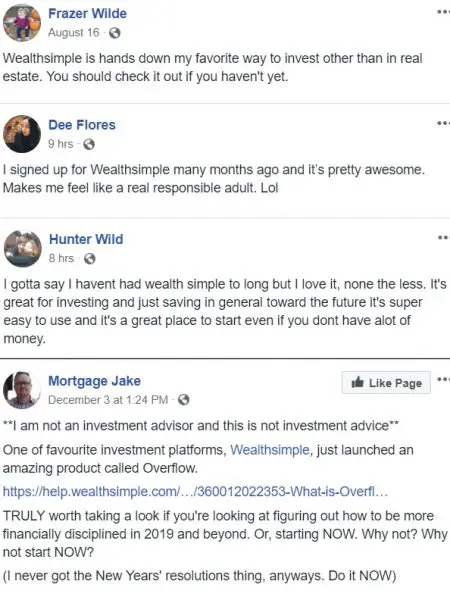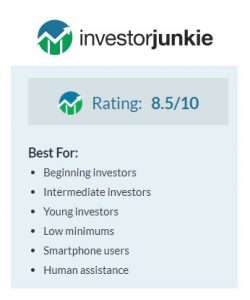 Wealthsimple is an online investing and trading platform that began in 2014. They employ a team of expert financial advisors, highly-talented software engineers, data scientists, and designers. In addition, many high-profile tech members have experience working with companies like Apple, Google, and Amazon.
Wealthsimple also has a committee of investment advisors known as experts in the investing community. The committee assists in the investment management process to ensure the client's money is being used efficiently and safely.
Products from Wealthsimple Canada
Wealthsimple now has multiple options they offer clients. For example, users can invest using their world-renowned Robo-advisor, trade on the major U.S. and Canadian exchanges, and open a cash account.
Also Read: Wealthsimple vs Moka
Wealthsimple Investing Review
Using Wealthsimple is an excellent option for beginners looking to invest with a bit of help. It takes little to no investing knowledge to begin, as the company's Robo-advisor does all the work. Plus, it's much cheaper than a typical financial advisor with high fees.
When investing with Wealthsimple, users must create an account and answer various questions that help determine their risk level. Wealthsimple suggests a portfolio between conservative, balanced, or growth-oriented options with the completed profile.
You can choose between a wide range of accounts to meet your goals when getting started. Wealthsimple offers RRSPs, TFSAs, personal accounts, RESPs, RRIFs, LIRAs, joint accounts, and business accounts. Wealthsimple's website provides information about each account to help users choose what is right.
Investing experts create the portfolios by choosing various low-fee ETFs across the board. This means users' portfolios consist of multiple bonds and stocks from Canadian, US and other foreign exchanges to ensure each portfolio is diversified.
These expert investors have the necessary experience to create portfolios that fit your needs while keeping them diverse and inexpensive to manage. The Wealthsimple performance depends on your goals and your portfolio of ETFs.
When investing with Wealthsimple, there are different pricing brackets your account may fall into.
If you invest below $100,000, you'll pay a 0.5% management fee. This Basic account gives you expert financial advice, your personalized portfolio, auto-rebalancing, dividend reinvesting, and auto-deposits.
Between $100,000 and $500,000, you'll pay a 0.4% management fee. This is a Black account which comes with all the Basic account features plus more. Black account holders also get VIP airport lounge access, tax-loss harvesting, and a financial planning session.
Above $500,00, you'll pay 0.4% as well, with Black account features and more. This account is the Generation status which includes a dedicated team of advisors, individualized portfolios, in-depth financial planning, and 50% of a Medcan health plan.
In addition to a customized portfolio based on risk and other factors, you can choose to personalize your portfolio further. Wealthsimple offers features such as Socially Responsible Investing and Halal Investing.
They also offer features like Roundup and Overflow. Roundup is an app that users can download that takes the spare change from purchases and invests it into your portfolio. Overflow is similar in that it takes spare money and invests it into your portfolio. However, Overflow asks users to specify the amount of money they want to keep in their associated accounts. Wealthsimple takes the difference and invests it in your portfolio whenever you have a balance over the specified amount.
Besides the management fees, portfolios also come with a MER fee; management expense ratio. Each ETF in your portfolio has its MER. These fees do not go to Wealthsimple but rather to the ETF owner. Wealthsimple chooses ETFs with an average of 0.2%, but maybe higher if users choose SRI's or Halal Investing.
Wealthsimple Trade Review
Wealthsimple offers commission-free trading on its smartphone app. This is an excellent option for investors looking to create their portfolios. It's cheaper than using Wealthsimple's Robo-advisor, but the work is all on you. You can customize your portfolio of ETFs and stocks from NYSE, NASDAQ, TSX, and TSX-V.
There are no management fees except the MERs associated with your selected ETFs. There is also no account minimum to start, so you can start with as low as $1 if you want.
Wealthsimple has created a beautiful app for users to trade on. It's easy and intuitive and takes very few steps to start buying and selling stocks!
Although minimal, there are limitations to the stocks and ETFs you can buy. For example, the stocks must have a minimum price of 50 cents per share, and there must be at least 50,000 shares traded daily.
Considering the fees are low, it's hard to beat trading with Wealthsimple. When using Wealthsimple's app to trade, you can select an account between a TFSA, personal account, and RRSP.
In the future, Wealthsimple plans to add new features to their app like 2FA security, notifications when prices change on your stocks, and news and updates on your stocks.
Also Read: Wealthsimple vs Questrade in Canada
Wealthsimple Cash Review
Wealthsimple recently brought forth the option for users to create an account similar to a checking or savings account. With this addition, Wealthsimple has made itself Canada's go-to platform for investing, trading, and holding your money.
Their savings account offers 0.9% interest, which is the ideal account for saving for short-term goals, storing emergency funds, and saving for other large purchases. In addition, the account has no low balance fees, no monthly fees, and soon will add no foreign transaction fees.
Users can deposit money using direct deposit. They can then transfer that money to another account they hold within Wealthsimple or use it to invest and trade.
Wealthsimple is in the works of creating a sleek and stylish tungsten cash card. Purchases with the card will have no fees associated, and the company will soon be offering ATM reimbursements. They also will be offering free electronic transfers and online bill paying.
Also, check out Wealthsimple's free tax service, Wealthsimple Tax.
Wealthsimple Investing Strategy
There are three leading portfolio options when using Wealthsimple's Robo-advisor:
Conservative: more bonds with low volatility, high-yield bonds, and short-term bonds. Fewer stocks are seen here.
Balanced: an equal mix of bonds and stocks between US, Canada, and global exchanges. An in-between portfolio for users with moderate risk
Growth: composed mainly of stocks, with many being in emerging markets, Canadian and US stocks, dividend stocks, and real estate. A portfolio for those with higher risk tolerance. 
Wealthsimple uses an investment strategy backed by Nobel Prize-winning research. The research found that passive investing is the best and most reliable method for increasing your wealth over time. Investing with Wealthsimple is a long-term process. Wealthsimple chooses ETFs with low fees and volatility over various geographical locations and industries. All the while, Wealthsimple looks to pick ETFs that still have good returns.
Wealthsimple Canada Review
Michael Katchen began Wealthsimple with a dream of offering Canadians the ability to invest in their future in a safe, efficient, and low-cost way. It began as a Toronto start-up and is now a well-known online financial service company.
Wealthsimple has built a brand trusted by many around the world. They have a team of highly talented engineers, investment managers, and financial experts. The company has over 175,000 users worldwide, and they have more than $5 billion in assets. Wealthsimple is the largest Robo-advisor in Canada for a good reason.
They use state-of-the-art technology to keep your financial information safe. CIPF protects users' accounts. Wealthsimple also has the backing of many large financial institutions with over $265 million in investments.
Wealthsimple Advantages
As already seen, Wealthsimple offers investors multiple options to begin investing with low to no fees. Using their investing platform gives users trading abilities with no commission fees. Using their Robo-advisor gives users customized portfolios with minimal fees. They also offer free account transfers.
Users have various accounts they can choose from, great benefits like VIP airport lounge access, auto-rebalancing, tax-loss harvesting, and dividend reinvesting. In addition, users can participate in socially responsible investing or Halal investing.
Wealthsimple also offers a team of financial advisors at the ready to assist users. They can assist in retirement planning, tax planning and preparation, estate planning, and more.
In addition to all the advantages of investing with Wealthsimple, they also have an award-winning that makes everything effortless.
Check out how Wealthsimple compares to Tangerine Bank.
Overall Wealthsimple Reviews
Wealthsimple is the best Robo-advisor in Canada. It's trusted by thousands of people and holds billions in assets. They have proven their ability to handle money and generate good returns on investments.
However, they're more than just a Robo-advisor, as we've seen. Wealthsimple offers high-interest savings accounts and a platform for investors to try their hand at the stock market themselves.
Many people look to compare Questrade vs Wealthsimple or Wealthbar vs Wealthsimple, but the differences are stark. Both competitors require investors to begin with at least $1000. They operate in similar manners but do not have the proven results and backing of Wealthsimple.
Wealthsimple is one of Canada's best solutions to investing for beginners or investors who want an easy way to shape their future with low fees.
There are some downfalls of Wealthsimple, however. Some Robo-advisors offer lower management fees, more portfolio and investing options, more account options for trading, and additional personal finance tools.
Each person needs to research online financial service providers before committing to one. There are advantages and disadvantages to each, and you must weigh them to fit your situation!