Getting ready to choose a career path is a challenging endeavour. It's a process that forces you to be honest about your strengths and weaknesses, passions, and work style. For example, do you enjoy working with others or do you prefer working alone? Are you creative, math and science-based, or more business-minded?
Regardless of what you find, another critical part of the career search is finding one that pays well. You don't want to pay for university only to find your career choice will take ages to get those loans paid off. In this article, we look to explore the best-paid jobs in Canada.
The Job Outlook in Canada
Researching various job outlook sites and recruiting company's predictions, we have created a list of the most in-demand jobs in Canada. These might not be the highest-paid jobs in Canada, but just as important as money is the career outlook. So look at the list below to see if any of these piques your interest!
Sales Associate – $37,050
Aerospace Engineer – $89,700
Software Engineer – $103,759
Welder – $42,900
Truck Driver – $48,750
Graphic Designer – $50,669
Dentist – $116,436
Physician – $200,000
Occupational and Physiotherapists -$76,881 and $86,020
Licensed Practical Nurse – $67,529
Business Development Manager/Consultant – $85,000
Project Manager – $91,428
Psychologist – $97,451
Heavy-duty Mechanic – $70,178
Receptionist – $33,150
Massage Therapist – $87,750
All salaries are recorded from neuvoo and PayScale.
For years now, healthcare and technology-related jobs have always cut in-demand jobs. But, if you're passionate about technology or you're passionate about helping people, you're in luck. There are sure to be plenty of jobs in both fields in the future. It just so happens these jobs also are frequently on the lists of top-paying jobs in Canada.
Let's look at some of the high-paying jobs available!
High Paying Jobs in Canada
This list is made to be an example and reference for those looking for lucrative and well-compensated jobs. If you're a student investigating the best-paying jobs in Canada, this is a great place to start. Most of these jobs listed will always be known as high-paying, in-demand, and highly sought-after careers.
The salaries listed are averages found from neuvoo and should not be taken to be completely accurate. Additionally, the salary of any job will vary based on location, experience, and the company you work for.
Anesthesiologist $275,000 average with $467,500 on the higher end
These specialized doctors are primarily responsible for monitoring, evaluating and supervising patients before, after, and during surgery. Anesthesiologists administer anesthesia to patients and ensure their comfort regarding surgery.
Oncologist $255,000 average and $375,000 on the higher end
Oncologists are the doctors who treat and diagnose cancer. They work with other healthcare professionals to create treatment plans tailored to each patient. They may also administer various medications or treatments.
Psychiatrist $241,431 average and $392,768 on the higher end
Psychiatrists diagnose and assist patients with various mental health issues. These can range from anxiety to addiction to eating disorders. Psychiatrists work directly with their patients to give them a better quality of life.
Pediatrician $223,300 average and $315,000 on the higher end
Pediatricians are physicians who primarily work with children and infants. As primary care doctors, they diagnose and treat various illnesses and injuries for babies and young adults.
Physician $200,000 average and $340,000 on the higher end
A physician is a general term for a medical doctor who treats and diagnoses patients. Physicians can perform tests, prescribe medications, and refer patients to specialized treatments. You may think of a general physician as your family doctor.
Radiologist $160,597 average and $375,000 on the higher end
Radiologists are specialized physicians who diagnose injuries and illnesses using various imaging techniques. These may be X-rays, MRIs, CT scans, and ultrasounds. Radiologists use these techniques to diagnose and find treatments for whatever is at hand.
Surgeon $160,597 average and $273,000 on the higher end
Although there are countless types of surgeons, most treat injuries and illnesses. The duties of each surgeon vary by type as some perform surgery for broken bones, tumours, or even cosmetic surgery.
Dentist $125,000 average and $175,840 on the higher end
The primary responsibility of a dentist is to ensure their patients have good dental hygiene. Dentists clean teeth, do minor operations and correct various issues with a patient's teeth.
Actuary $112,496 average and $136,500 on the higher end
Actuaries specialize in performing calculations to determine the outcomes of events that affect businesses. Their statistical work may deal with accidents, investments, insurance, and anything else related to financial decisions.
Healthcare Manager $108,837 average and $166,550 on the higher end
Healthcare Managers have different roles depending on where they work. In a hospital setting, managers work with physicians, accountants, and other sectors to ensure treatment, finances, etc., are all in good standing. They are the overseer of all functions in an organization, crucial to having a smoothly run hospital.
Nurse Practitioner $108,064 average and $123,396 on the higher end
Nurse practitioners work directly with patients performing tests, providing care, and assisting patients in any way possible. These healthcare workers are on the front lines ensuring patients get the highest quality of treatment possible.
Lawyer $107,221 average and $144,873 on the higher end
A lawyer may work with many industries depending on their specialty. In general, lawyers stay up to date on legal issues communicating with their clients on those issues. They may assist in creating legal documents for businesses, filing appeals, and providing consultation.
Software Engineer $103,755 average and $175,500 on the higher end
Depending on the company, software engineers may fix existing programs, develop new solutions, and test various software systems. Additionally, they may be responsible for creating detailed documentation of software systems.
Data Scientist $102,500 average and $162,971 on the higher end
Data Scientists are experts in statistical analysis who use various programs, algorithms, and methods to understand and interpret data. They assist in making predictions, determining business decisions, and creating solutions to multiple problems. These workers are becoming more and more sought after in large companies.
Financial Manager $100,000 average $127,500 on the higher end
Financial Managers are responsible for reviewing financial reports, supervising accounts and searching for solutions to increase profit. These individuals also look to increase the value of the company they work in.
IT Manager $97,190 average and $131,931 on the higher end
IT Managers are the individuals in charge of creating solutions tailored to specific computer-based problems. They oversee operations of their sector, design protocols, analyze existing and ongoing issues, and use their creativity to meet the needs of their company or clients they work with.
Pharmacist $94,799 average and $120,267 on the higher end
Pharmacists' primary responsibilities include taking prescriptions from physicians, preparing medications, and monitoring records of medications. They also keep track of patients' records and work with physicians on specific medication recommendations.
Project Manager $91,544 average and $155,624 on the higher end
Project managers oversee large projects to make sure they are completed timely, under budget, and successfully. These managers are responsible for monitoring the progress, creating reports, and communicating with all those involved. They may also be the ones to design the plan and timeline.
Construction Superintendent – $90,000 average and $140,000 on the higher end
Construction superintendents are the ones who watch over a construction site and project from the beginning to the end. They must ensure the site adheres to safety standards while also managing tasks and individuals. These workers are crucial to a construction site operating smoothly.
Business Executive $90,000 average and $153,000 on the higher end
A business executive can have a variety of responsibilities depending on the company and the exact position. Generally, they are responsible for ensuring their organization reaches goals, adheres to policies, and communicates with other executives and lower-level management.
After seeing some of the best-paying jobs in Canada, we can see some trends. They all require high skill, come with great responsibility, and are invaluable. Additionally, lots of them require extensive schooling. As school takes time and money to complete, we thought we could provide another list that doesn't require much education.
Here is one more bonus list to get you by!
Trades in Canada
Construction Manager – $90,000
Oil Rig Manager – $101,371
Pipefitter – $64,506
Heavy-duty Mechanic – $70,200
Industrial Electrician – $76,137
Welder – $83,020
Carpenter -$55,440
Boilermaker – $67,446
Industrial Mechanic $60,443
Plumber – $78,000
As experience and location change the salary, these are not entirely relied on but used as a reference!
We've now looked at some of the most in-demand jobs, highest-paying trades' salaries, and some various high-paying jobs Canada has to offer. Use this information to help you choose a career that fits your desires, skills, and wishes!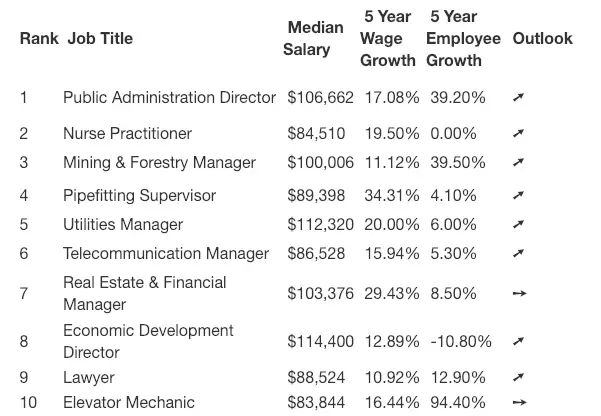 Learn More About the Highest Paying Jobs in Canada
Public Administration Director
These professionals usually work in government offices. They make certain policies and procedures are followed. As the overseer of a government program, they're responsible for coordinating and implementing necessary procedures to get the job done. You can say this is a bureaucratic position fit for a person who loves to take charge and work in government. However, long term, it's unlikely the demand will decrease. If this is your chosen field, consider employment in a local, provincial office and work your way up to Prime Minister.
Nurse Practitioner
The demand for nurse practitioners continues to increase in family medicine. This is a career choice that requires advanced education with many benefits and rewards. Nurse practitioners work along with medical doctors and examine, diagnose and prescribe medications for patients. In addition, they might be the only medical professionals available in some areas due to a shortage of doctors.
The minimum educational requirement to begin an NP program is usually a Bachelor of Science in Nursing, BSN. However, some programs might require a master's in nursing for admission, MSN.
Mining & Forestry Manager
If you like to work with natural resources, such as fisheries, lumber mills or mining, this is the career path. Mining & Forestry manager jobs are in high demand. The future looks bright for this career field. Their role in sustaining and monitoring natural resources is vital today. Concerns about global warming, Illegal poaching, deforestation, including water and air pollution make this a high-demand career. Added to the new way technology is being incorporated into mining and forestry, this career path is for you if you are environmentally conscious.
Pipefitting Supervisor
Pipefitters have been around for a long time. Although many people might think the job involves putting pipes together, they are sadly mistaken. The job entails building and maintaining systems that carry anything from steam, water, hydraulic fluid and chemicals to oxygen. Pipefitters work on ships, office buildings, homes, factories, mills and any place where a material or substance has to get from point A to point B.
Some of the skills required to succeed include math, manual dexterity and familiarity with industrial tools such as drills, micrometres and welding. This job will require you to be in good health and possibly lift about 25 kilos daily. This is a critical job because, without a pipefitter, nothing flows. Leadership and organizational skills are mandatory for work as a supervisor. You need to know what your employees are doing, and you have to work with deadlines. The career path usually beings with an apprenticeship program. While you are enrolled in the program, you will get paid while you learn on the job. The big reward comes when you continue to go back for more specialized training. Some technical positions for pipefitting supervisors include work on defence systems and intelligent building systems.
Utility Manager
A utility manager ensures that waste management, electricity, heating, or water systems are maintained and operate at their peak performance. Other aspects of the job of a utility manager are to make sure that all systems meet government and local requirements for safety and environmental protection. In addition, the manager must ensure that employees meet the qualifications for the position they are hired to perform. For example, the utility manager at an airport must provide that the lighting in the passenger areas of the terminal and buildings are working correctly. In addition, they may have to ensure all lighting for aircraft works appropriately as well. Finally, just as with other management positions, the utility manager must have excellent supervisory skills.
A bachelor's degree is usually the minimum education requirement with work experience. Since this is not an entry-level position, the utility manager should have excellent supervisory skills. In addition, some jobs will require a master's level degree in a related field such as electrical engineering.
Telecommunications Manager
The field of telecommunications is constantly redefining itself. What used to be a simple telecommunications network is being replaced with technology such as 5G, beacons and systems that monitor and evaluate their performance.   The telecommunications manager must understand satellite communications, broadband, and more. They work in education, sports, business, and legal sectors and must know how telecommunications works in those sectors. As with other management positions, this is not an entry-level position. However, women and men who work in telecommunication or related fields such as satellite technology will do well as a manager with a background of supervising others.
Real Estate & Finance Manager
A manager who understands the dynamic and innovative strategies of international and national business will do well in this profession. Global markets have changed the way financial institutions influence culture. No longer is government alone the determining factor in the strength of an economy. Financial institutions that manage funds for governments and corporate investments have changed the rules of the game.
A master's degree in economics, business administration, public administration and other related fields are the foundation to success in this sector. Managing large portfolios or multinational projects is the driving force behind this career path.
Economic Development Director
In the not-for-profit world, the position of the economic development director focuses on strategies to raise funds for the organization. This might involve hiring grant writers or developing fundraising strategies. In addition, this position might include strategizing with donors and foundations to ensure the organization has the necessary funds to support its mission.
In a government agency, the economic development director will also explore ways to generate revenue. They might recommend the implementation of strategies like tax increases, investments and offering municipal bonds. They usually do not do all the detailed work but will take on the role of overseer to ensure things get done.
Lawyer
Lawyers have opportunities to have success in many career fields. Some lawyers work in government justice departments. Others choose to work with corporations. For example, they might take on the role of making sure the corporation's by-laws comply with all government policies. Lawyers have even gone to medical school to become doctors. This gives them an advantage if they decide to represent medical professionals or organizations with malpractice lawsuits.
In some countries, after receiving a law degree, the next step is to pass the Bar exam to represent clients in a court of law. Some lawyers will spend their career working as advocates, corporate lawyers or patent attorneys as an example.
Elevator Mechanic
This job has changed radically from what we might think it was just 20 years ago. Today the elevator mechanic earns a significant salary after about four years as an apprentice. It does not take seven years of education to start work in the field. The elevator mechanic is responsible for making sure the elevator works right all of the time.
That sounds straightforward. The key is they must understand the technical systems. For example, it is possible to operate an elevator from a laptop computer these days. What used to be a job where the mechanic worked on one' car' at a time, today they must understand how banks of elevators work together and are independent of each other.
A building might require systems where one bank of elevators stops on a specific floor while another starts to transport occupants to higher floors. However, coordinating the time and also speed and monitoring can get very complicated.
Mechanics must understand the technology, names and uses of all the aspects of elevator maintenance. For example, in case you might be wondering, today escalators transport people beyond just one floor. Those systems, based on the technology of elevators, also require maintenance to keep them running and maybe coordinate when they get to the specified floor where elevators are waiting.
Overall the jobs listed in the list are comprehensive. However, other professions are closely related. People might use what is considered 'transferable skills to find work in those professions. A great example is a plumber who decides to train to become a pipefitter.
The fundamentals of both jobs are similar; however, the technical aspects are different. For example, a real estate and financial manager might pursue a career as an investment banker or stockbroker. The bottom line is to talk with a career counsellor or someone in the profession you are interested in to make an informed decision. The future is bright, and the prospect for work is there.