What is Neo Financial?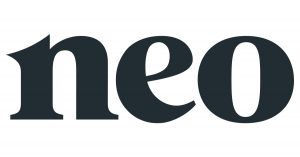 Neo Financial is an online-only bank started in 2019 founded by Andrew Chau, Jeff Adamson, and Kris Read. With deposit protection by Concentra Bank, they are a certified financial institution in Canada. They also partner with ATB Financial to issue their credit cards (although they are branded fully as Neo).
Neo Financial offers thus far three products you can use; their unsecured credit card, secured credit card and high-interest savings account to hold your funds and use for everyday purchases.
The main perk is their cash-back rewards: minimum 1%, Average 5%, and Max 15% with some of their partners (*based on available offers and varies per offer and partner). Also, earn 1.3% with your Neo savings account.
Neo Financial provides many benefits and opportunities to help build your credit and enjoy rewards simultaneously.
This article will discuss Neo's newest product – The Neo Secured Mastercard, the best secured cash-back rewards credit card available.
Neo Financial Secured Mastercard Review
What used to be the Hudson's Bay credit card is now Neo Financial Credit Card. Now Neo has released their newest iteration of credit card, the secured Mastercard.
The only requirement for this card is to keep a minimum balance of $50 in a "security balance" (aside from your Neo savings account). If you cannot keep $50 in a security balance, the unsecured card may be right for you. This card offers all of the same benefits as the secured card.
The major caveat to the secured card is that your credit limit is whatever your "security funds" are – $50 to $10k are the limits. This is how they can offer a secured card – you set your credit limit.
You must be the age of majority in Canada to apply for this card. The great thing about Neo Financial is the application process is incredibly easy. As well, you will not be denied unless you can't provide the correct documentation. So, as long as you are a Canadian citizen, can provide the proper documentation, and have $50 to place in "security," you can get this card, regardless of your credit score.
The Neo secured credit card is a great way to rebuild your credit – with a secured card and no annual fee, which you can get regardless of your credit score.
If you have a low credit score, this may be an excellent card to have on your credit history. As it's no-fee, you can use it as a debit card for in-store purchases. Fill out the online application today to get started!
Benefits of Neo Secured Card
The Neo Secured Mastercard is a high-rewards cashback credit card with an incredibly low requirement to hold the secured card. Aside from great rewards benefits, there are many aspects to the card which are beneficial.
Build your credit with a secured card, only holding $50 in security
Choose from thousands of partners to earn rewards
Guaranteed rewards rate of 1%, an average of 5% cash-back (*based on available offers and varies per offer and partner)
Earn up to 15% at some Neo partner retailers
Deposit protection up to $100,000 through Concentra Bank
Easy application
Convenient App to track spending, rewards and offers
Earn 1.3% on the balance you hold in your savings account
Limit yourself – only able to spend what you have in a security balance

Cons
Neo cards do not provide balance protection insurance
Any cash withdrawals cost you; only use the card for purchases
Your credit limit is limited to your "security balance."
What's the difference from the unsecured card?
The main difference between secured and unsecured cards is the credit limit and securitization. Although a card with a $50 limit isn't handy, you can hold more in your security balance to up your limit. This makes the card practical and functional for any budget.
You can also only use your card to a maximum value of what you currently have in cash – a good and not-so-good thing.
As far as rewards go, they are essentially the same as an unsecured card.
Another great benefit to the secured card is it builds your credit faster than an unsecured card. Credit bureaus look favourably on secured cards as it indicates you may have assets to securitize – a good thing for you as long as you make all your payments!
There is a definite benefit to the secured card over the unsecured – but your spending ability is up to you.
Fees and Rates:
Annual Fee: $0 (Free!)
Avg Cashback: 5% at most partners
Interac e-Transfers: $0 (Free)
Overlimit Fees: $0 (Free)
Inactivity fees: $0 (Free)
Minimum thresholds: $50 minimum balance to maintain the secured card.
Rate on purchases: 19.99-24.99% APR
Rate on Cash Advances: 21.99-26.99% APR
Rate on balance transfers: Neo does not currently accept balance transfers.
Foreign-Exchange Conversion Rate: 2.5%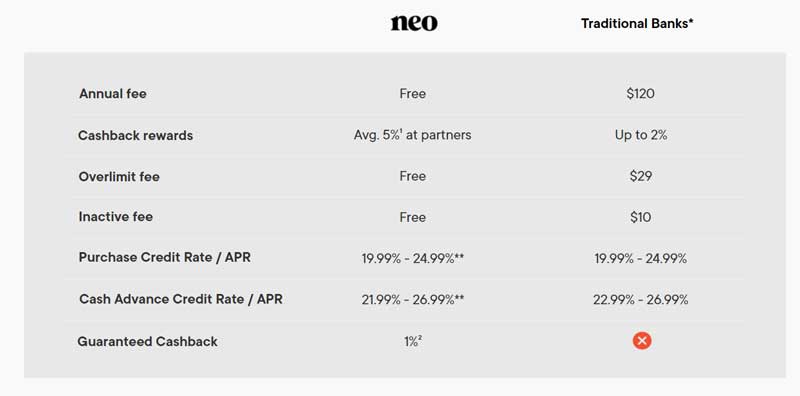 Is Neo Secured Mastercard a good choice?
Our short answer is an emphatic yes, but you need to know why you are using it and manage it appropriately. Neo has something to offer everyone at varying credit ratings and assets levels.
The secured Mastercard would be a fantastic credit builder for those who can keep a few thousand in their account to use for monthly expenses. In addition, earn a high rate of 5% cash-back rewards, and earn interest at a great rate of 1.3%.
The rewards and convenient app on their own make Neo Financial and this Mastercard something to consider as an additional payment method to your arsenal – we disclaim this for those who are financially responsible. Multiple rewards cards can go a long way for you when properly managed!
Please take a look at Neo's website for more information on the secured credit card, as well as all of their other products.
Also Read: