Two of Canada's leading online banks – Neo Financial and EQ Bank, go head-to-head in this review, comparing and contrasting one over the other. One becomes superior over the other in terms of its financial strengths and capabilities. But, on the other hand, one can also become inferior because of workable weaknesses that still need polishing and galvanizing. Today, we'll talk about Neo Financial and EQ Bank and how each compares and contrasts with the other. Let's go ahead.
Brief Background of the Banks
The online branch of Equitable Bank, aptly named EQ Bank, focuses more on what big banks frequently miss when it comes to more innovative saving and spending. With their high-interest savings-oriented bank accounts, EQ Bank allows users to send money internationally using TransferWise.
Meanwhile, although not as known as other online banks, Neo Financial isn't slacking since its release in December of 2020. This online bank features a credit card as its primary spending medium and pairs it with a hybrid savings and chequing account. With its offering of extensive cashback rewards, this saving account earns interest on account balances.
Neo Financial vs EQ Bank in Canada
Let's compare and contrast; we'll dive right into it. Here are some categories where Neo Financial and EQ Bank can battle it out towards online banking supremacy. Let's go.
Credit Card
Neo Financial has a credit card and started its career with such service, building its financial foundation. Neo Financial's main product is its cashback rewards credit card – a no-fee unsecured credit card, the first of its kind. They also offer a secured version with a minimum commitment of $50 in security.
Meanwhile, EQ Bank still hasn't gotten interested in venturing into the credit card business yet.
Neo Financial excels in the credit card and rewards category vs EQ bank.
Fees
Luckily, EQ Bank and Neo Money Accounts do not have associated fees, perfect for those who want to start lightly on their finances. However, for Neo Financial, their "Plus" and "Ultra" cash back rewards plans charge $2.99 and $8.99 monthly fees, respectively. But they will only charge these fees if you opted into their plans for cashback rewards.
Interest in Savings
In this category, the two (2) both offer some of the best savings rates in Canada. EQ Bank offers 1.25% while Neo Financial (Neo Money) offers 1.30% respectively. In addition, both of them have no monthly fees and get unlimited transactions.
EQ Bank also offers RSP and TSFA savings accounts. In addition, mobile cheque deposits and EQ to EQ transfers are possible with EQ Bank. However, Neo Financial currently doesn't have any related services to the earlier mentioned ones.
Referral Program
EQ Bank pays referrers up to a maximum of $500, with referees getting $20 upon account opening. Neo Financial pays you and your friend $50 when you sign someone up – this is a much better reward than EQ bank, and the earning is unlimited.
Customer Convenience
Since Neo Financial and EQ Bank are 100% online, they do not have any physical branches where customers can walk into if they need help. With that said, customer service convenience can be a hassle at times.
Safety and Security
Neo Financial and EQ Bank are the same in terms of deposits. As a result, both online banks are eligible for insurance provided by Canada Deposit Insurance Corporation. For Neo Financial, consider that eligible deposits are combined with Concentra Bank.
US Dollar Account
EQ Bank has a US$ savings account that offers its users one great way of growing their USD. Rather than patterning itself with some big banks that offer only a mere 0.01%, EQ Bank lets you earn a whopping 1.00% interest rate. On the other hand, Neo Financial, at the moment, does not offer USD savings accounts to its users.
Guaranteed Investment Certificates (GICs)
GICs are investments that offer guaranteed rates of return over fixed periods. Banks and trust companies most commonly issue these GICs. Because of its low-risk profile, returns are generally less than other investments like stocks, bonds, or mutual funds.
Clients of EQ Bank can purchase GICs for both registered and non-registered accounts. However, Neo Financial currently does not offer such investment products.
Weighing the Pros and Cons
After discussing how both fair and fail in some categories, let's now have a rundown of each of their pros and cons:
The Goods
Neo Financial
No annual or monthly fees, no required minimum balances, and no inactivity charges
High-interest savings account (1.3%)
Super high cashback on most purchases, including a 15% welcome bonus at some partners
Tracks and categorizes each of your spending
Easy sign-up and account opening
Cards can be used with Apple Pay or Google Pay, even before you receive it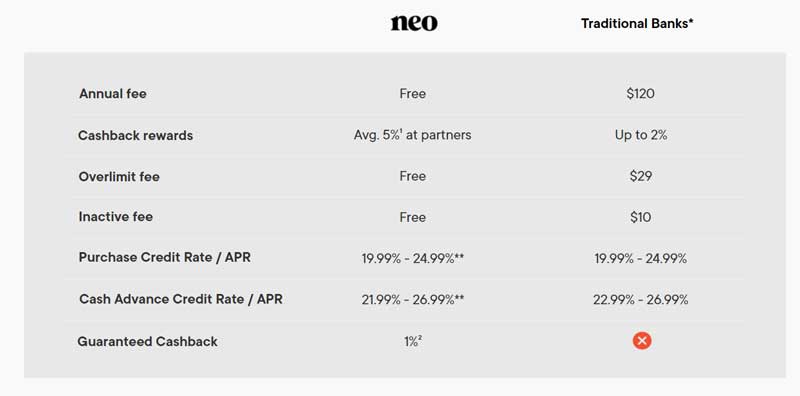 EQ Bank
The current interest rate is at 1.25% (everyday interest rate)
You can make withdrawals anytime with no associated fees
No minimum balance required
Free bank-to-bank transfers and free transactions
Money deposited into accounts are insured by the CDIC
The Not-So-Goods
Neo Financial
Low credit limits, with only a maximum of $10,000
High cashback offers are exclusive for partners only
No additional perks for users like extended warranty protection or travel insurance
Neo Financial partnerships are primarily with restaurants and food establishments
EQ Bank
Only available exclusively for Canadian residents and citizens
No ATM access and withdrawals are available
No debit card option for buying on physical stores or even online
No physical location to go to only has online availability
Suitable only for customers who are 19 years old or above
Final Verdict: Neo or EQ Bank?
Both online banks offer strong arguments backed by concrete evidence that merit them worthy of being the best. But both of them also have areas of improvement they need to work on if they want to elevate their services, equating to more customers and more revenue.
The lack of usability, on its own, is the biggest flaw that EQ Bank possesses. The fact that its hyper-focused savings account sheds some positive light. Its lack of prepaid or debit cards on hand can be daunting and uncomfortable. If pushed a bit harder, there's still so much that EQ Bank could become when it comes to its overall usability, both as a savings and spending account.
On the other end of the spectrum, Neo Financial is among the best banks nowadays. Since its humble beginnings, thanks to its foundation built on a credit card, paired up with an interest rate of 1.3% and extensive cashback rewards, it is even more worthy of being recognized. All of these attributes bode perfectly well for Neo Financial to be deserving of the proverbial crown among royalty – as one of the best online banks to be taken advantage of in terms of both the main spending option and savings account decision. Suppose you're still deliberating within yourself between EQ Bank and Neo Financial. In that case, the latter will surely provide you with better savings rates together with a reliable credit card, which is infinitely better. Explore everything for yourself and discover how either of these two (2) online banks can help you with your finances.
Also Read: